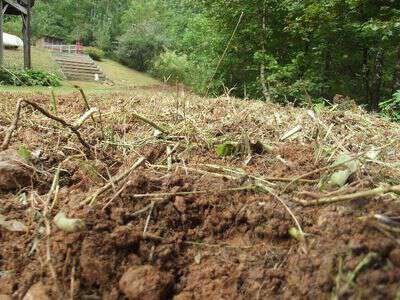 While me and the girls were out gallivanting at Mountain Heritage Day, The Deer Hunter was at home getting stuff done.
Back in the day, when the girls got big enough to tag along outside with me, I became slightly obsessed with flowers. I was constantly begging flowers out of someones yard or flipping through the pages of flower catalogs wishing I could buy a plant from every page.
I spent a lot of time working in my flowers. I hauled loads of rocks from the creek to border the beds with, did my best to keep the weeds at bay, and deadheaded the flowers to encourage new growth. I even followed the advice of horticulturalists and tied my daffodil leaves into neat little tufts instead of cutting them off once they became ragged and brown edged.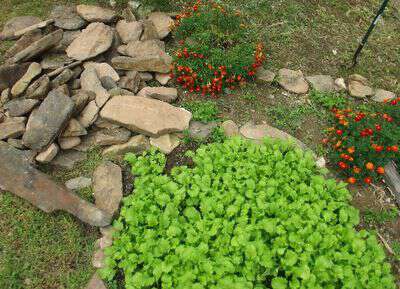 It was like I never thought of growing food-only flowers. Maybe it was because Granny and Pap were still spry enough to handle all of the 'gardening for food' chores in those days.
Then along came a year when money was even tighter than usual and I thought I should plant things that would actually benefit us instead of more flowers. I was hooked from the first cucumber, tomato, or whatever it was that I planted-nurtured-and then ate-all from my own garden. After that-I pretty much let flowers fall to the wayside and concentrated on growing things we could eat.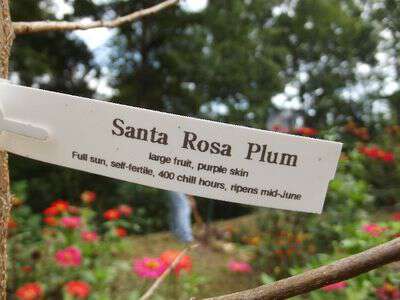 My vegetable gardening expanded each year, and as it did, my flowers were more and more neglected. Right away I totally abandoned the flower bed that was the greatest distance from the house. The woods quickly reclaimed what I ignored. I kept the other beds up-but mostly my care for the plants came when I couldn't take looking at the weeds any longer.
Instead of wishing for flowers I began to wish for fruit trees and bushes. Miss Cindy helped me by bringing plants sent by her friend Saleh. Uncle Henry donated pear trees and I bought raspberry plants off ebay.
The past few years, The Deer Hunter and I have felt the need to be even more self sufficient and we've added additional perennial food plants such as Asparagus, Salsify, and Mushrooms to our gardens.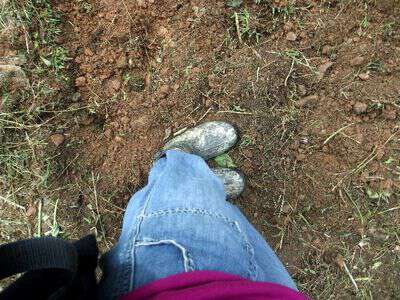 Miss Cindy sent good news the other day-Saleh had blueberry bushes and grapevine starts for us. There was only one problem-where to put the new plants?
We threw around idea after idea-but none seemed to work. I finally realized my long perennial flower bed which gets a full day of sunshine was the perfect place. The Deer Hunter said-"What about your flowers? We could move them?" I said "You know what-I don't want them anymore. And I still have tons of flowers without that bed anyway."
It was true-once I thought about the flower bed, I realized the only thing I would miss was my wild phlox plants and my Uncle Woodrow's rose bush.
So while we were gone, The Deer Hunter cut all the flowers down and starting just beyond Woodrow's rose he plowed the rest under. I knew he was working while we were out playing and enjoying WCU's offerings. He was on my mind several times that day-but truthfully it wasn't cause I was feeling bad or worrying-I was wishing I had dug up my daffodils!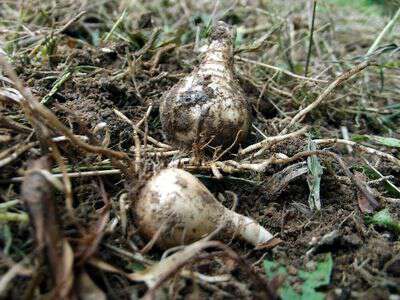 When we got home late that evening, the yard looked so much larger. The Deer Hunter said "Well now that the flowers are gone are you sad?" As I looked around I said "No, not at all."
I had already decided I wasn't going to mention the daffodil bulbs to The Deer Hunter-I was just going to be grateful he had completed all that work without my help.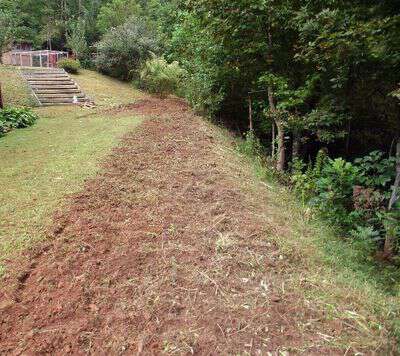 As I walked along the edge of the plowed area the next morning I had a pleasant surprise. My daffodil bulbs were turned out of the dark dirt like potatoes. I picked up over a gallon-now I just have to figure out where to put them.
Are you a flower grower, a food grower, or both?
Tipper