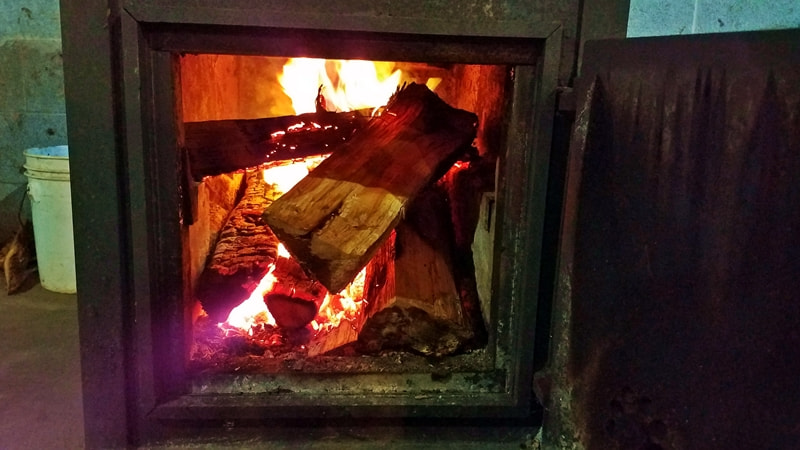 A friend experienced a chimney fire just before Christmas. Thankfully he woke and smelled smoke about the time it started. He was able to call the fire department and try to put it out with a hose and a fire extinguisher. Although the house has some damage, especially in the roof area, the whole thing could have been much worse if he hadn't of caught it so soon.
Since then, it seems like we've all been a little more wary of our wood stove. The Deer Hunter climbed on the roof and gave it a good cleaning out. Chitter helped him and they both looked like chimney sweeps once the chore was finished.
The girls and I have jumped at every pop, crack, and hiss that comes from the stove even though we've been hearing them for years and years.
In an article titled Burning Logs Whisper Secrets, John Parris shared the following folklore he heard from his Grandfather.
When the logs tramp along like someones walking-they're saying company is coming
When the logs make a sort of sobbing sound rain is sure to follow
When the logs putter and make a sound like a person walking through snow, you know it will soon snow (Lonnie Dockery, former Blind Pig reader, told me he always heard that the fire was "tramping snow" when it sounded like someone walking on snow)
When the fire roars up the chimney like it wants out there's sure to be a fuss in the family
Whether its a wood stove, a fireplace, or a bonfire there is something mesmerizing about fire. I soak up the heat like a cat and let my mind wander as I watch and listen to the jumping flames.
Parris's Grandfather made a good point in the article I mentioned that still rings true today, probably more true today than years ago when the article was written. People don't know about foretelling signs, like whispering logs, because today they have no time to listen.
Tipper
Subscribe for FREE and get a daily dose of Appalachia in your inbox