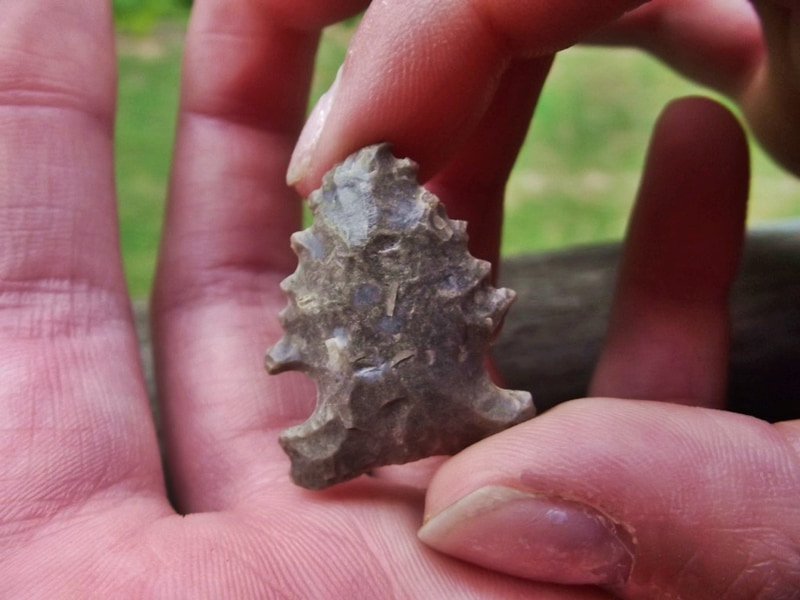 It's been a long time since we found an arrowhead in the garden. We used to find them fairly often in Pap's big garden. Whenever one was discovered there was always big excitement.
Years ago it was Paul who found the majority of them. When he was in his late teens he went all over the place looking and amassed quite a collection. He'd notice a field that had just been harred and he'd call and ask the owners if he could look for arrowheads.
Chitter found the one in the photo at the top of this post back in 2012.
The Deer Hunter was tilling in the big garden and Chitter was supposed to be throwing rocks he unearthed to the side of the garden. Instead, she was playing with the dogs. Chitter bent over to wrestle Molly-dog and spied the amazing arrowhead.
She ran and showed her Daddy, she ran and showed Pap, and then she ran all the way home to show me.
Pap told her "Whoever shot that arrowhead, went looking for it. They would have wanted that one back."
When she laid it in my hand, I held it against my cheek and closed my eyes. Chitter said "What are you doing?" I said "I'm thinking of the Indian who made it. I'm thinking that he used it to feed his family. I'm thinking he walked in the same woods we do."
Tipper
Subscribe for FREE and get a daily dose of Appalachia in your inbox