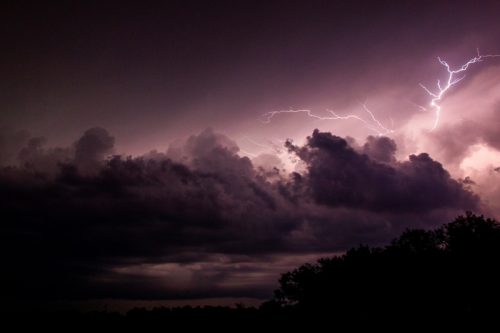 We've had stormy weather for the last several days. Over four inches of rain has fallen and the thunder and lightning have been fierce.
Yesterday's round of storms took out Granny's tv. There was several hours of rolling thunder with a few earth shaking claps that made me jump. I'm guessing one of the lightning strikes that proceeded the loud burst is what got Granny's set. She said it sounded like it hit directly in the corner of the living room.
I bet the power blinked off at least a dozen times during the spate of storms.
Earlier today Chitter and I were down at Granny's talking about the recent weather.
Granny said "You know my Grandpa Truett always called storms that came in as the seasons changed equinoctial storms. If it started storming way in the night he'd get up and put all his clothes on and sit in a chair till it was over. Sometimes the rest of us would get up and set with him."
Knowing her grandpa lived with Granny's family in his later years I asked her if that's where she got her fear of storms.
She said "Yes I guess it is why I don't like storms."
Granny's always been afraid of storms. When Steve, Paul, and I were growing up, she had all kinds of admonitions about storms, specifically about lightning.
According to Granny you can't take a shower, talk on the phone, or run water when it is lightning. You also can't flush the potty or stand by a window.
And, at all costs, Granny said you should have shoes on even if you're inside the house when its storming, and she means real shoes not some sort of flimsy house shoe.
Granny had so many warnings about lightning that Paul and I started making up our own.
Like:
don't stand on one foot and open the frig or it will draw lightning.
don't cross your right arm over your left arm while crossing your left leg over your right leg because it will draw lightning (obnoxious I know)
Silly or not Granny lives by her "lightning rules" and if you happen to be with her in a storm she'll make sure you do too.
Tipper
Subscribe for FREE and get a daily dose of Appalachia in your inbox