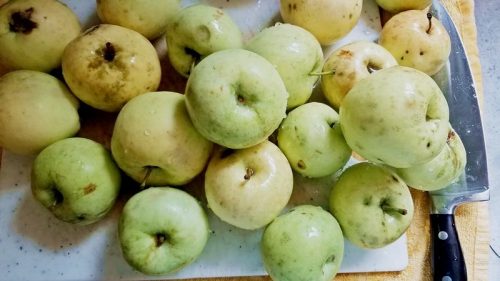 "Mother seldom canned or dried June apples. The winter had been long and we yearned for fresh fruit. She fried the June apples and served them with hot biscuits, freshly churned butter, and milk. Sometimes she made applesauce."
—Sidney Saylor Farr "More than Moonshine"
—
I've been wanting to taste June apples ever since I heard them mentioned here on the Blind Pig and The Acorn.
During our cooking class a few weeks back Carolyn suggested we walk to the Folk School's apple trees and pick apples. I said "Are you sure they'll be ready?" She assured me they would be and they were.
Carolyn said the tree variety was Early Harvest. We made applesauce and dried apples from the ones we picked during the class and both turned out great.
I had the opportunity to pick some more of the apples last week. I worked them up into applesauce and apple preserves yesterday. They made the prettiest applesauce!
As I admired my jars sitting on the table I realized the apples had to at least be similar to June apples because they were indeed ready to pick during the last of June. I suppose there are different varieties of June apples just like there are different varieties of fall apples.
The Early Harvest apples from the Folk School may not be the June apples folks remember from days gone by, but at least I'm getting closer to finding them.
Tipper
Subscribe for FREE and get a daily dose of Appalachia in your inbox