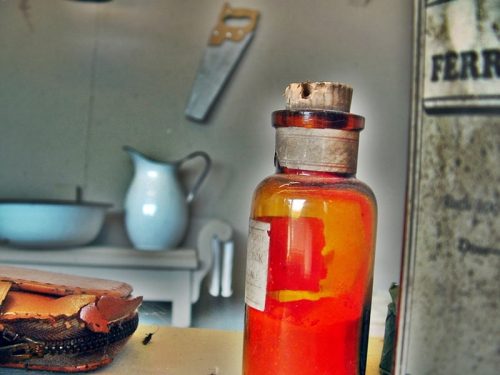 "I mentioned in this blog a long time ago that my Appalachian elders doctored everything with moonshine and turpentine!
I forgot that my papaw used onions a lot…cooked them, wrapped in a cloth, laid on the chest for croup or bronchitis….he ate them daily, too, along with apples….lived to 89. I think we must have been tougher then.
We did not seem to get as sick as folks do now. We ate better…we walked everywhere we went. Of course kids got hurt, but going to the doctor was rare.
I went only once I remember…when I woke with a bad swollen eyelid and mommy somehow got me to a doctor that said it was a spider bite. I still react like that to insect bites.
I remember putting spider web in a cut to stop the bleeding…tobacco juice on a bee sting…butter and salt used on mosquito and other insect bites….warmed sweet oil dropped in a child earache.
My maternal papaw was a miracle man….was born with powers….could draw out burn and stop bleeding by saying a Bible verse…could cure thrush in a baby's mouth by breathing his breath into that baby. My paternal mamaw could buy your wart away.
A century ago , my own great granny learned to read and write at age 50 so she could pass the state test to be a midwife in our Va…Ky mountain area….she was said to carry a knife in her bag to slip under the bed of the woman in labor then whisper to her….I'm here and I have cut your pain in half now. Great grandma Nancy Emmeline McGuinness Collins own signature is on my mommy's birth certificate."

—Kat Swanson
---
I wish I had all the medicinal knowledge our ancestors utilized. Pap's grandmother, who we called Big Grandma, ate onions every day because she said it was good for your health. She lived to be 84.
Last night's video: I Couldn't Resist the Seeds! | Starting Peppers, Cabbage, Beets, Poppies, and Kohlrabi.
Tipper
Subscribe for FREE and get a daily dose of Appalachia in your inbox