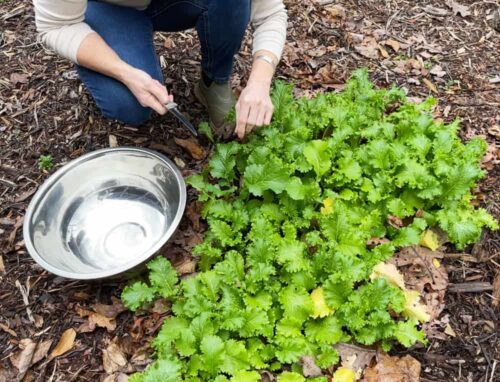 The mustard greens I planted last fall are still going strong. When I harvest them, I cut only the leaves leaving the roots in the ground to grow more leaves.
Their pretty green color is a bright spot in the dreariness of February in the mountains.
I'm already working towards the spring and summer garden.
Last year I tried planting my pepper plants inside so that I could start them a little sooner in an effort to get peppers earlier in the summer. The sun doesn't sufficiently reach our greenhouse this time of the year so I can't really start them in there during February.
I thought if I got some grow lights I could start them in the basement. Living on the north side of the mountain none of our windows get sufficient light to grow things in or near them.
My problem with the basement was since we let the fire die out at night the temperature fluctuated down there so much that I didn't really accomplish anything by starting them earlier. They grew so slowly I might have well as waited on the green house.
This year I decided I would move the lights upstairs where the temperature stays more stable. As I was looking for a shelf to hold the growing enterprise I found a lighted shelf made especially for starting seedlings. It's sort of a mini-greenhouse with wire shelves that have lighting and a plastic cover that holds the heat in.
On the advice of readers and viewers I also purchased heated grow mats to put under the seedlings.
I'm so excited. I can't wait to see if the peppers do better this go round. I also started cabbage and kohlrabi seedlings. I've always direct sowed my beets, but they take so long to germinate I decided to try starting a few of them inside this year too.
Last night's video: Getting Kilt or Killed Dead in Appalachia.
Tipper
Subscribe for FREE and get a daily dose of Appalachia in your inbox