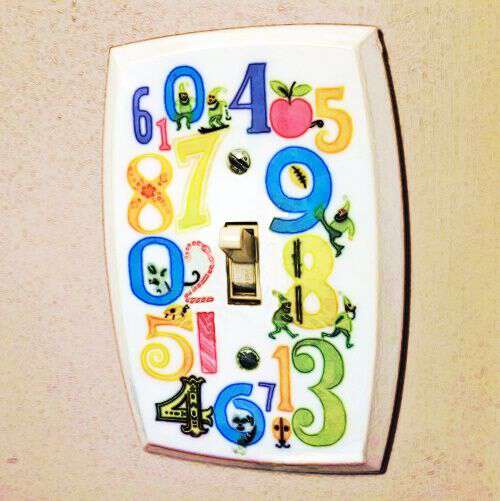 Do you turn the light off or cut it off? I cut it off and I cut it on too.
I was in head start when we moved into the house Pap built. I think my room was pink in the beginning, then it was yellow, then purple, and finally it was a tan color. Even though the wall color changed during the years I slept in the room the light switch cover didn't until I reached adulthood.
Just before I met The Deer Hunter, I painted the room the tan color. It was then I noticed the elves and numbers light switch cover and decided it needed to go. I politely unscrewed the elves and their friends, went down the hallway and switched the elves for Pap and Granny's beige light switch cover.
Years later, after I was a married mother of twin banshees, I was down at Granny's looking for something in the back bedroom when I noticed the elves were still on her light switch cover.
I was up the hill in a flash. In no time flat I had the old cover switched with the beige one from my baby girls' bedroom and it stayed there through the various colors of their room until one day they decided they no longer wanted to share a room and Chatter moved into the guest room.
After a fresh coat of paint was put on both rooms Chitter came to me with the elves light switch cover. She'd already taken it down and wanted to know what to do with it. I knew I couldn't get rid of it, but I also knew I'd never see it if I put it in a box of keepsakes. I went to mine and The Deer Hunter's room and put it on the closet light switch and its been there ever since.
So pretty much my entire life those little elves have been helping me cut the light on and cut the light off.
Tipper
Subscribe for FREE and get a daily dose of Appalachia in your inbox