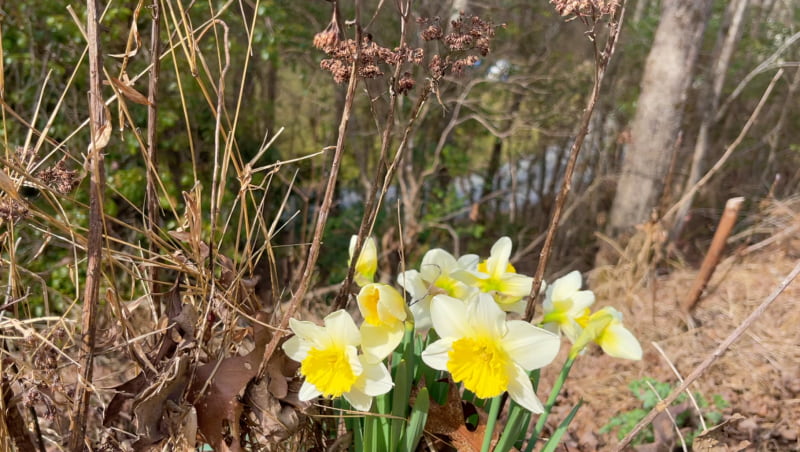 I'm talking about daffodils in my latest video.
I've always called the cheery herald of spring daffodil, Granny calls them jonquils. A few other names I've heard folks use for the flower are March lily, March flower, Easter lily, Easter flower, and buttercup.
I love the daffodils that I have sprinkled around my yard, but I also love the ones I see at old homeplaces as I go about my way to and fro through Brasstown and beyond.
My mind goes to those people who planted them and I wonder who they were and why did their homes disappear into the landscape.
My favorite quote about daffodils:
"On we went, her red coat flitting in and out of the trees ahead of me. Sometimes she seemed not even to touch the ground. We came into the clear and struck out along a fencerow surprising the little birds that flew up all around us. We passed that pile of rocks which used to be the chimney of an old homestead, we know because daffodils pop up there every spring. Fannie said, 'Daffodils remember when the people are all gone.'"
~Lee Smith, On Agate Hill
---
What a great line: "Daffodils remember when the people are all gone."
Help me celebrate Appalachia by subscribing to my YouTube channel!

Tipper
Subscribe for FREE and get a daily dose of Appalachia in your inbox
*Sources: Smith, Lee. On Agate Hill: a novel. Chapel Hill, N.C.: Algonquin Books of Chapel Hill, 2006