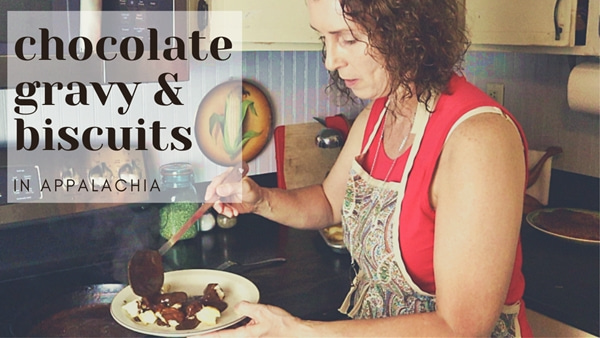 I recently did a cooking video for the North Carolina Folklife Institute, they graciously allowed me to share it with you too.
I love chocolate gravy! Its one of my favorite traditional Appalachian recipes.
Sunday morning breakfasts were always extra special when Granny made chocolate gravy and biscuits. She usually made sausage gravy or bacon gravy for the boys and Pap, but Granny and I loved chocolate gravy and usually ate the whole bowl 😀
There's lots of recipes for chocolate gravy. A quick google will turn them up. Most use a combination of milk, butter, sugar, and cocoa.
Granny's recipe, which she learned from her mother Gazzie, is different than any other chocolate gravy recipe I've seen. It only uses water, cocoa, flour, and sugar.
Watch the video to see how I make chocolate gravy and biscuits!
I hope you enjoyed the video! Do you like chocolate gravy?
Help me celebrate Appalachia by subscribing to my YouTube channel!

Tipper
Subscribe for FREE and get a daily dose of Appalachia in your inbox