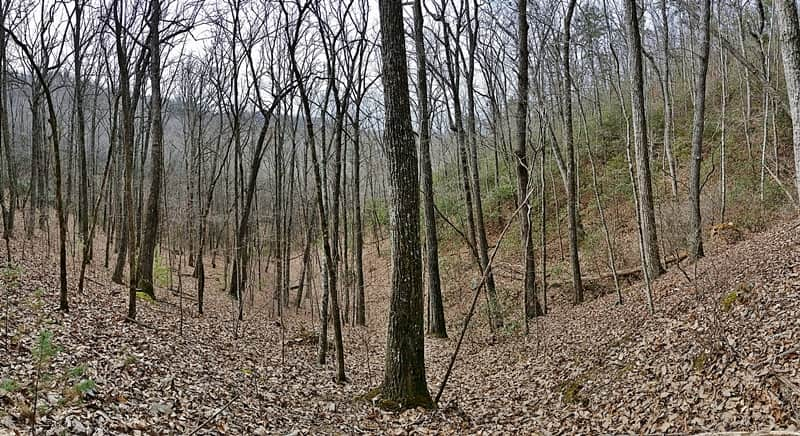 A few months back Garland sent me the following comment:
I have seen you use the word cove from time to time. What is the Appalachian connotation? The sailor in me sees a cove as a small sheltered bay. According to Google it also has some architectural meanings. I could find nothing relating to mountains or landscape. Perhaps you could explain in your next vocabulary.
Thank You
Garland
—-
As I read Garland's question I immediately thought "Well a cove is just a wide holler." But the more I thought about it the more I wondered.
Since The Deer Hunter grew up in the Dutch Cove of Canton, NC and now lives in Wilson Holler I asked him what he thought a cove was. He pretty much said the same thing I thought: a cove is a wider more expansive holler.
I asked a few other folks and they agreed with our thoughts on the matter, although as one pointed out there isn't much information to back up our premise.
Don Casada, who has intimate knowledge of the hollers and coves of the Smoky Mountains had this to say to say on the subject:
"My first thought was to agree with you, but as I've given it some more consideration, I'd have to say I've heard the two words applied more or less interchangeably. Right off the bat, I can't think of any place officially named as XXXX Holler or Hollow on the NC side, but I did remember there being a Churn Hollow over in Tennessee (on Sams Creek, a feeder of the Middle Prong of the Little River). I opened up my Garmin software's map and found several places named Hollow on the Tennessee side of the Smokies, but the only official place name with Hollow in it on the NC side I can think of is Pretty Hollow over in Cataloochee. I won't say I did a thorough search.
There are multiple places on both the NC and TN side which include Cove in the name. They cover a broad range – from Cades Cove and Big Cove (on Raven Fork), both of which include some nice bottomland. But then there's Horse Cove on Noland Creek, Cable Cove (where the shuttle boats for the decorations leave from), both of which are much more confined with relatively little ground anywhere close to flat. Those are all officially named places. But just on Peachtree Creek (the first creek you cross after getting into the Park as you head towards Noland Creek), there are three places which Delia Watkins had names for that are not on a map (other than mine):
– Dogwood Holler
– Miley Holler
– The Henry Cove (she always used "The" in conjunction with that name)
As I think about walking through those unofficially named places and also look at their layout on a topo map, I can't come up with anything which distinguishes between cove and holler.
Bottom line – I'm not much help.
—-
I disagree with Don. I think he was a great help in shedding light on the usage of the word cove in Appalachia.
Here's the entries for hollow and cove from the Dictionary of Smoky Mountain English.
cove noun A sheltered, often enclosed valley having a relatively level floor, arable land, and a single drainage outlet. Also used in place names, as in Cades Cove (TN) and Cataloochee Cove (NC).
1943 Peattie Indian Days 41 A valley usually means a big valley, a small one is a hollow or a cove.
hollow noun A gap between ridges; a small, sheltered valley that may or may not have a watercourse. Also used in informal place names, as in Hell's Holler (NC) and Piedy Holler (TN)
1939 Hall Coll. Saunook NC He run me over a ridge and down the holler and over a ridge and down another holler to the river. (Herbert Stephenson)
—-
To answer Garland's question, I believe a Cove is generally accepted to be a larger holler in most of Appalachia, or at least in the Southern Highlands of Appalachia. Although as Don pointed out, the words are also often used interchangeably.
I found Don's mention of Delia Watkins always adding 'The' to the Henry Cove especially interesting. There are many named hollers up the creek but like Delia we always add 'The' to The Roberson Cove.
Tipper
Subscribe for FREE and get a daily dose of Appalachia in your inbox