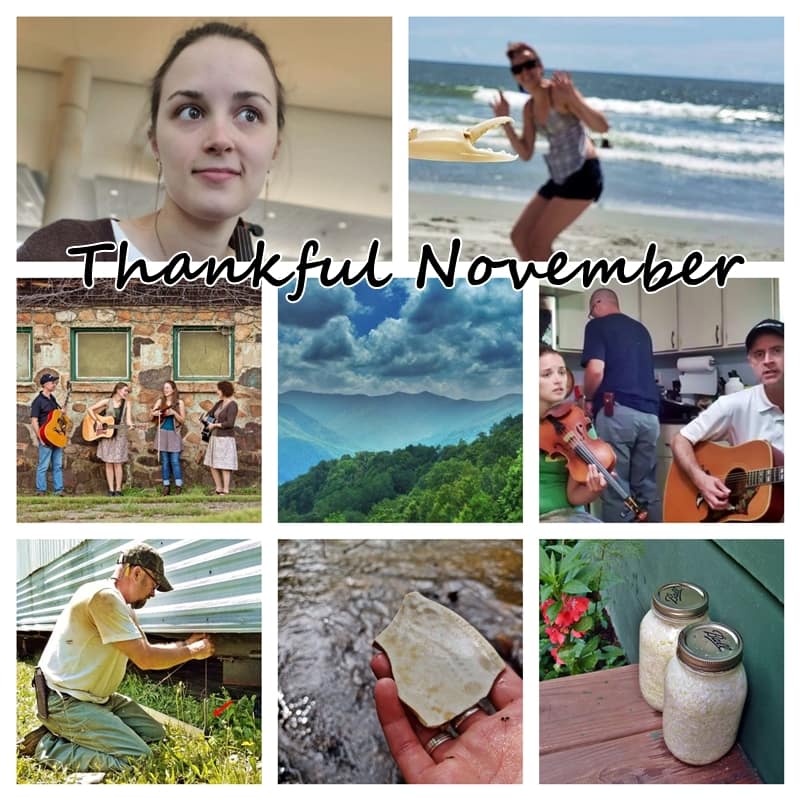 Veler Marcus: Daddy would make us rope swings. Tie a rope in a loop on a limb in the yard where our shade trees were. Then he'd fix us a board for a seat. Notch the board so it wouldn't turn us out. You had to be careful or it would turn you out and you would get hurt.
Helen Nichols: I can remember once having a swing made with an automobile tire. One long rope tied onto an oak tree limb, because oak was supposed to be stronger than anything else. Of courses, somebody had to push.
Mrs. Rae Shook: We used to make swings. Somebody would climb way up on a tree and tie the ropes, and you'd get in it down here and somebody would swing you way out over yonder. You'd go a long ways. We'd have a piece of hickory bark across it for a seat.
—"Appalachian Toys & Games" – edited by Linda Garland & Hilton Smith
—-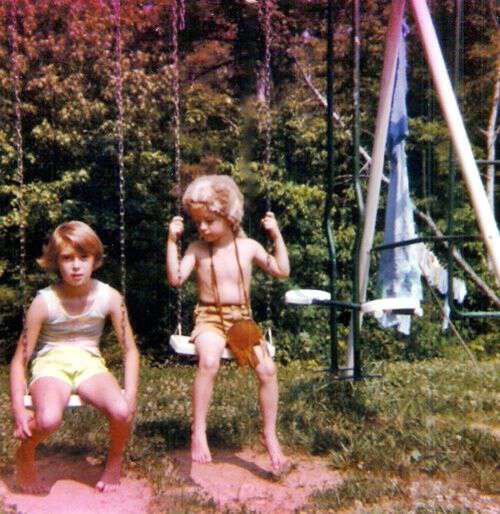 Tipper and Paul
I spent untold hours swinging as a child. When we first moved into the house Pap built he didn't have time to move my swing set from the little rented house. Every time he went back to get it, there was a little girl swinging on it and he couldn't stand to take it while she was there. Finally one day she wasn't there and I got my swing set moved to our new house.
We also had a rope swing Pap built in a dogwood tree in the backyard. Looking back I guess he built it for me. Steve would have been too tall to swing on it and Paul too little. I swung on it until one day it broke leaving me on my back on the ground. I cried and cried and acted like I couldn't walk, I'm sure I was really a sight to behold. I remember Granny tied up my back with something and then put my big long winter coat on me. She said it would make my back all better and it did.
As we got older Paul and I would swing and make up pretend stories that we acted out. Our favorite was one where we gathered an imaginary team and competed against each other. Our teams were mostly filled with Major League Baseball players of the day like Ron Cey and Nolan Ryan.
Martins Creek School had great swings. The school swings were the old tall metal ones you used to find at all playgrounds. You could really go high on those swings and if you were really brave like some of the boys and a few of the girls you could flip over backwards and land on your feet as you flew high into the air. I never got brave enough to try it, but I loved to swing so high that the chains snapped and clanked as I came back down.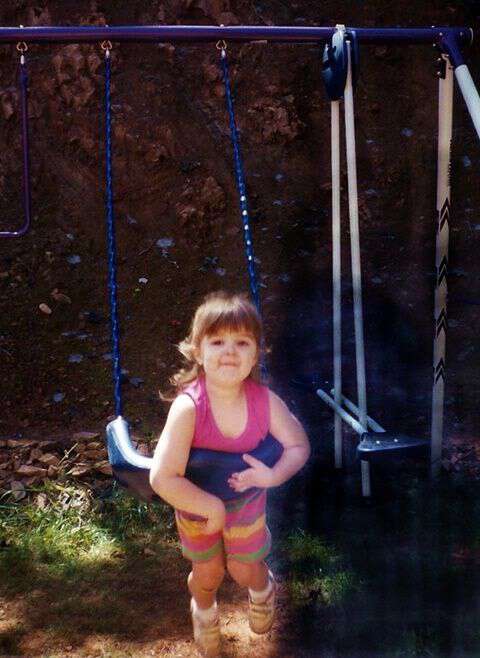 Chatter
The girls loved to swing too. The photo above shows Chatter on the first swing set they had. The seats of the swings were hard plastic and didn't mold themselves to the girls backsides so we had a terrible time of trying to teach them to swing with out sliding out of the seats. They finally came up with their own method of swinging. They laid on their bellies and pushed off and then pumped their legs backwards. It sort of worked 🙂 at least they had fun doing their own version till they finally figured out how to stay in the seat.
Today's Thankful November giveaway is a used copy of the book "Appalachian Toys & Games." To enter the giveaway leave a comment on this post. *Giveaway ends on Saturday November 16.
Tipper
p.s. The winner of "Mountain Makings" is Terry Stites who said: "Thank you Tipper, for everything. I enjoy your writings so much. You make my day every day. Happiest of Holidays."
The winner of "Rough Weather Makes Good Timber" is AW Griff who said: "I've never been to one of the old time barn dances but as a young boy I would listen to the adults talk about barn dances. The ones they talked about in E.KY. sounded like bad places to be. There were plenty of fist fights and some knife fights. I heard Dad tell of one barn dance where one fellow was carving on another and he pulled a pistol and shot him plime blank in the heart. Another story I remember well was about a Great Uncle who had a kicking, bucking mule that he kept his whiskey on. When anyone would ask for a drink, he would tell them if they could get it off his mule they could have it. So the story goes nobody ever got any moonshine. Fast forward many years and my Great Uncle was the last person I remember riding his horse to church. He never owned a car or got a driver's license."
Send your mailing addresses to me at [email protected] and I'll send you the books!
Subscribe for FREE and get a daily dose of Appalachia in your inbox