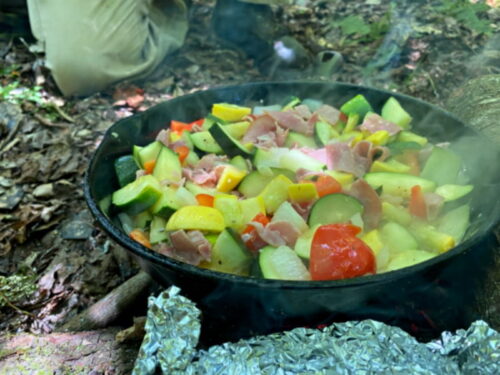 As we planned a recent all day hike Chitter volunteered to take care of our dinner for us. She said "I'll pack up something easy and quick to cook and it'll be really good."
She diced up peppers, onions, squash, zucchini, and ham and threw it all in a ziplock bag sprinkling the mixture well with her favorite seasonings. She added butter and garlic to another bag, grabbed a frying pan and declared dinner was taken care of.
In the proceeding days I'd noticed Chitter eating the veggie ham scramble for her dinners. Sometimes she'd scramble eggs to go along with it and other days she'd eat it by itself.
We took along a bag of tortilla chips to eat with ours and it was so tasty. I just couldn't get over how good it was. I told Chitter "Now I know why you've been making this every day for a week!"
Tipper
Subscribe for FREE and get a daily dose of Appalachia in your inbox