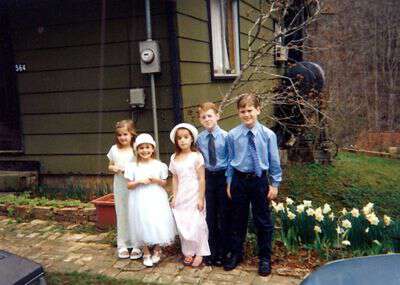 Pap and Granny's grandkids at Easter
Ed Ammons: Does anybody remember Easter baskets made from round oatmeal boxes? The boxes were cut in half except for two strips left on each side that when stapled together at the top served as a handle. The whole thing was then covered with crepe paper, ribbons and bows. The girls took the time to make really pretty ones. The boys only wanted something to hold the eggs they found.
Zelma: I remember so well the patent shoes, frilly dresses and hats, and the light jacket required for chilly Easter mornings. My mother always made a 3 layer coconut cake. She went all out–chose a coconut from the store after shaking it, broke it open with a hammer, and grated her own fresh coconut, and the coconut water went in the cake batter. She also fashioned spring flowers from gumdrops which she meticulously rolled out and cut and shaped, and then placed on top of the coconut cake as decorations. I wish I had a picture of one of those cakes, because they truly were masterpieces. She could be so artistic, but never thought she had any talent. My memories remind me in so many ways that she had very special talents.
B.Ruth: My Mother would always receive a orchid for Easter from my Dad. It was usually in a white box with a clear window to view the flower…It had a small ribbon bow attached to the tube where the orchid stem met the top opening. Also enclosed was a long pin with a pearl bead-like top. Stuck through the fake green wrapping that held it altogether and was used to attach it to your dress. The color of the flower was a pale orchid or pinkish white. She put it immediately in the refrigerator until Suday morning. Mom more than likely would wear a suit with skirt and jacket that matched and a blouse underneath…the orchid pinned on the left collar…When I got in junior and high school I would get the florist flower too. Not always a orchid usually carnations…because the orchid was expensive and reserved for Mom…I didn't care for most of the girls wore carnations.
When I was a very young girl, Mom would usually fashion me a little flower from one of her hat flowers with a ribbon. Sometimes, if there was a new bloom of a daffodil or narcissus in the yard, she would tie those together with ribbon and use one of her many bead-head pins to attach it. I always managed to get stuck at that age…too tom boyish and rambunctious I guess…
The orchid and carnations were always taken off as soon as we got back home and put back in the refrigerator. After Sunday was over Mother would take out the flower and put them in one of those single stem vases (milk glass 40/50's) and display it on the dining room table until it faded away!
This is one of many memories I have left from Easter Sunday in the 40's and 50's growing up years!
Once in a long while if Dad had lots of work (self-employed) and had a little extra money he would also gift Mom with a pot of White Easter Lilies…this was a sacrifice for him for the strong fragrance from them being in the house would make him sick.
Jim Casada: I wonder how many of your readers remember "fighting" eggs at Easter time? This was done by striking the more pointed ends of boiled eggs against one another. It was grand fun to have a "champeen" egg which reduced a bunch of others to the makings of egg salad. Of course there was always some sneaky country boy who had access to guinea eggs and snuck one of them in amongst his dyed chicken eggs. A guinea egg is as hard as the fowl which produce them are loud. I haven't heard (or thought) of fighting eggs for years until a few days ago. It was commonplace when I was a boy.
Ken Roper: I've watched youngin's as they searched for Easter Eggs. That is a nice tradition, and to see the look of surprise when they find one is rewarding. For years my daddy was the Sunday School Superintendent at our Church, but he was a prankster too. He made me an Ester Egg to fight with, and out of Talc. That thing was slick as a button, he scraped it with his knife then sanded it smooth. Then he warned me to do like the bigger boys did, let only the pointed end stick out to fight with. There was some sad faces after I broke their prize eggs, then I'd go off and snigger. That was fun!
Shirl: My earliest memory of Easter was going to church and getting an Easter basket filled with candy we had never seen before. The few pieces we got at Christmas was nothing compared to what we found in our basket. They usually had one of those chocolate covered eggs with fruit and nuts inside.
We all took eggs to school and had a big hunt at recess. No telling how long some of those eggs had been unrefrigerated! Most people used food coloring to dye their eggs.
Paul Certo: Mrs. Wanda recalls when she was very young she lost one of her new Easter shoes in the mud walking back from the Church House. Seems her foot sunk so deep she couldn't find her shoe! They never did find that shoe, so somewhere in the old road towards Millers Fork Church, is an old, very muddy, girls shoe, entombed until they decide to pave the road, and a grader unearths it. Not sure they ever will pave that road, though.
—-
Tipper
Subscribe for FREE and get a daily dose of Appalachia in your inbox