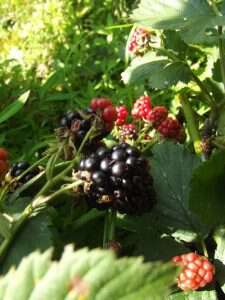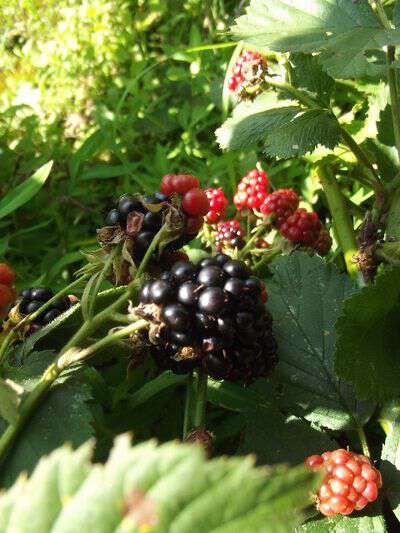 Blackberry picking time is almost here-the berries are still green on the brambles around my house-but before long they'll be turning that luscious deep dark black color.
Folklore surrounding Blackberries I've heard all my life…
Blackberry Winter– a cold snap occurs each spring about the same time the Blackberry Blossoms appear. Happened this spring just like it always does. (kinda like our Dogwood Winter) Medicinal Remedies– Blackberries or Blackberry juice is supposed to help any kind of stomach aliment-diarrhea, dysentery, ulcers. The roots and leaves of the Blackberry are used to make a tea which is said to relieve sore throats, thrush in babies, mouth ulcers and gum irritations.
This morning I Googled Blackberry and found the following info-which totally surprised me.
*Blackberry is often called Bramble in other countries
*Blackberry briars are thought to protect your house from evil-especially from Vampires. Seems if you put the briars around your doors and windows-the Vampires can't cross over without first counting all the briars-which if your familiar with Blackberries, you know is almost impossible. (makes me wonder if the idea for The Count on Sesame Street came from this piece of folklore.)
*Native Americans used Blackberry stems to make rope/twine.
*Some folks think the Crown of Thorns was made from Blackberry Briars-and the berry itself is so dark to symbolize Christ's Blood.
*Some folks think when the Devil was cast from heaven-he fell into a Blackberry patch and therefore the fruit is cursed-and it's black because the Devil spit on it.
The eating is what I enjoy most about Blackberries-but coming in a close second is hearing them. Yes, I said hearing them-give this week's Pickin' & Grinnin' In The Kitchen Spot a listen and you'll see exactly what I mean-the tune-Blackberry Blossom-is so catchy you'll find yourself humming it for the rest of the day. (don't forget to stop the player in the top right corner of this page)
Hope you enjoyed the Blackberry lore-and the outstanding picking by Paul and Mandolin Man.
Do you like Blackberries?
Tipper