Today's guest post was written by Ron Stephens.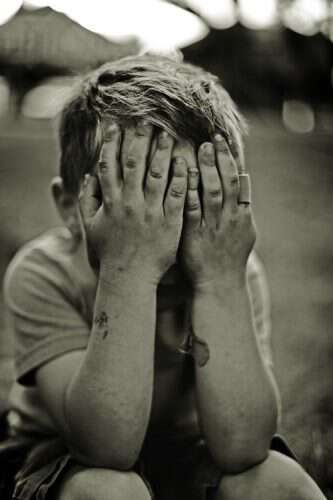 I remember playing hide-and-go-seek under Grandma's yard light. The pole was 'base' and was in the east side yard about halfway between the house and the chicken pen. Our 'bounds' were the fenced in yard, though we weren't too good not to fudge a little bit with some questionable places.
Within that quarter-acre or so were some good hiding places and some more not-so-good. There were the red and yellow canna lilies, way higher than our heads and with big, concealing leaves. There was the concrete block pump house we could circle to stay on the unseen side while IT tried to switch back real fast and catch us. There was the two-bay dog house if you didn't mind sharing but it was hard to get in and out of fast. The dog house roof was OK but it was way too low and too easily seen, though IT didn't always look.
But my two favorite places were; (1) a dry, wooden rain barrel (because one stave was sprung) behind the garage alongside the garden path and (2) the flat top of the garage roof itself. The barrel was fun, though most risky, because IT would pass within two feet and all IT had to do was look over and I was caught. The garage roof was the most fun because I could watch ITS every move but IT never looked up. Sometimes I could even get down, run to a place IT had already looked and not get caught and I knew IT wouldn't look a second time. Best of all was running back and tagging base to be safe before IT every found my hiding place or tagged me first.
I don't remember for sure but I expect we had to be called in to go to bed, probably about 9 o'clock. I am pretty sure we slept the sleep of the just, whether altogether entitled to it or not.
Ron Stephens
—–
Ron's post made me remember my favorite hiding places. Sometimes I'd slip around the other side of the house and wait till I heard whoever was IT run off after somebody and then I'd make a bee line for base. Other times I'd hide just in the edge of the woods where I had a clear view of base. As soon as IT got far enough away I charged straight to base. But my favorite place to hide was to make a giant loop. I'd head up around the pond in the steep creek banks and up through the woods until I could see base and make my attempt to get safely back to it. I still remember the excitement I felt when I successfully made the giant loop. I felt as though I was a spy behind enemy lines making it back across to safety.
Tipper
p.s. You can catch The Pressley Girls this weekend August 11, 2018 @ 8:00 p.m. at Unicoi State Park in Helen GA.
Subscribe for FREE and get a daily dose of Appalachia in your inbox