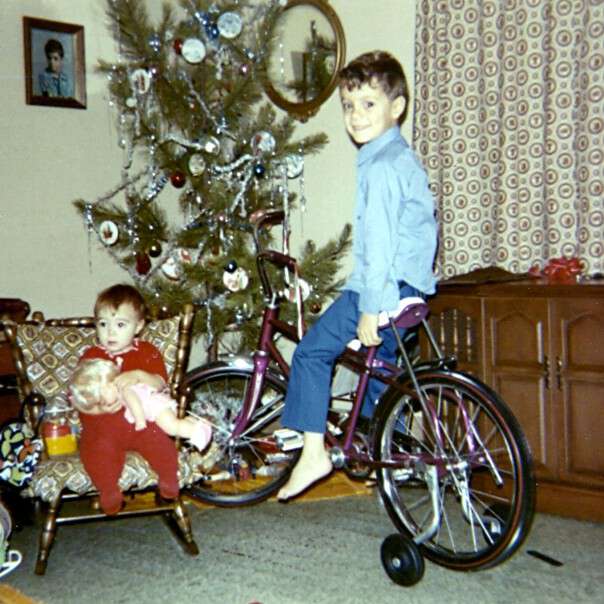 Tipper and Steve (I still have the rocking chair!)
"Away in a Manger" is the lullaby of Christmas songs. I've always thought the simple lines make it sound like a folk song and the visual of stars, hay, cattle, and meeting in heaven help reinforce the folk song feeling.
The fact that no one knows who wrote the lyrics also aligns it with other folk songs from the same era.
For many years Martin Luther, Protestant Reformer from Germany, was credited with writing the song. No one knows why, but in 1887 James R. Murray published the song in his book "Dainty Songs for Little Lads and Lasses" listing Luther as the writer of the song.
Murray was a hymn writer and worked for a publishing company, so it's probable that he truly thought Luther was the person who penned "Away in a Manger." The version of the song published in Murray's book only had two verses. During the years after the publication, the song spread in popularity as did the notion that Luther wrote it.
Two years before Murray published the song, the Lutheran Church published the song in a book titled "Little Children's Book" giving credit to no writer and showing a completely different tune than the one so many of us know and love.
Shortly after WWI a Boston publishing company published the song crediting Carl Mueller with composing the music for the song.
In 1945 American writer Richard Hill decided to unravel the confusing past of the song. Hill discovered Luther was not the writer of the song.
"Away in a Manger" was practically unknown in Germany until it was introduced to the country by Americans. Hill verified that Murray composed the tune we are familiar with today, but his research could not find the original writer of the song.
Research did show evidence that most likely an American wrote the song during the mid 1800s. The song was then passed down orally like so many of our other folk songs.
Watch the video below to check out The Pressley Girls' version.
Tipper
Subscribe for FREE and get a daily dose of Appalachia in your inbox
*Source: Collins, Ace. Stories behind the best-loved songs of Christmas. Grand Rapids, Mich.: Zondervan, 2001. Print.