Today's post was written by Paul.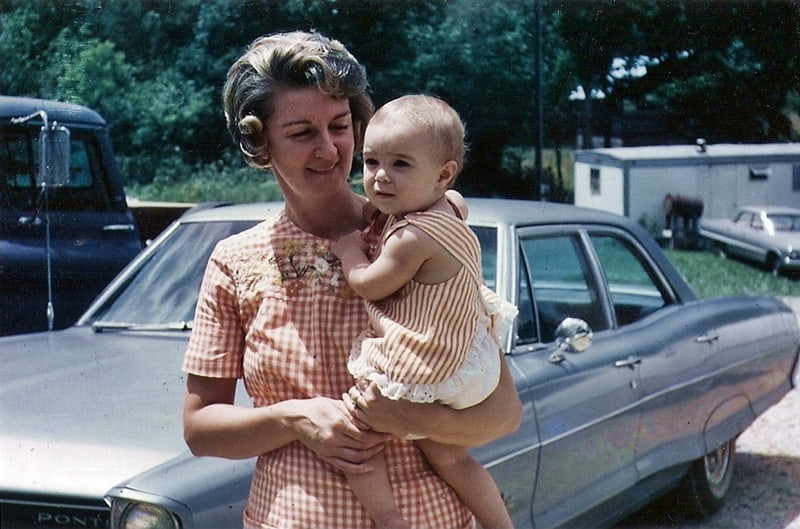 Granny and Tipper
I think the song "Medals for Mothers" speaks to the amazing value and impact of a true mother. A true mother is often selfless, and when one loves selflessly, yes, I believe there are rewards and perhaps even recognitions awaiting in heaven. As I once heard Ira Louvin say, "There's a big difference between being a mother of someone and a mother to someone."
Any fertile man and woman can conceive a child, but they aren't really fathers or mothers until they parent with love and raise the child that they conceived.
Back in mid April, I knew that I'd like to upload a song for my mother (aka Granny) and for all mothers on Mother's Day. One weekend, after we finished practicing with the Pressley Girls, Corie (aka Chatter) stepped out to take an important call from Art and Brie of YouTube fame. While she and Tipper were outside, I taught the chorus and melody of "Medals for Mothers" to Katie (aka Chitter).
One thing I've learned lately is that I can sing with either of the Pressley girls, and I'll like the sound. Each pairing sounds different to me but good either way. 🙂
Chitter learned quickly and by the time Corie and Tipper stepped back in from the phone call, we turned on the camera and gave it a try. I knew that this song could be done with a male lead and female harmony because Pap and Granny used to sing the song decades ago, and I had heard them sing it on an old cassette.
As far as I know, the Wilburn Brothers were probably the first well-known artists to record this song. Shortly after they did, the Osborne Brothers did. Interestingly, this is something that happened multiple times: the Wilburns releasing a song followed shortly by the Osborne Brothers releasing the same song, often with a more aggressive arrangement. The Wilburn Brothers definitely noticed it. I heard one of them (I believe Teddy) comment on the phenomenon on their TV show, just before introducing the Osbornes. I believe on that episode, Sonny and Bobby sang "Roll Muddy River," which was first cut by Teddy and Doyle.
Anyway, Pap and Granny didn't learn this song from either of them but from their longtime friend, Wilabell Dockery Kernea. Wilabell had a brother Jack who was a great flatpicker and singer, and Pap and Granny used to hang out with them, drink coffee, eat, tell stories, and pick and sing. Jack passed on years ago, but Wilabell is still alive. I used to pass her every now and then while I was driving a school bus. I'd like to thank her not only for teaching Pap and Granny the song but also just for her friendship to them over the years. I don't know if she goes online at all, but maybe she might see this or one of her kids or grandkids might show it to her.
I hope our laidback (maybe even somewhat poor mannered) behavior just before singing such a sweet, sincere song, doesn't turn anyone off. Several viewers have commented that they love seeing our pre-song banter and shenanigans almost as much as our music, so I left it in. Katie shows her Fire Marshall Bill teeth right after the camera starts, and I'm awkwardly shaking off the stiffness from my fingers caused by the practice session that just ended.
I can take partial credit for Katie's great-sounding kickoff, in that I suggested earlier to her to pair two notes together just before the song goes to C, but I couldn't explain to her WHY it sounds good. I guess that was kind of like Kickingwing asking Joe Dirt why firecrackers are good.
Now I have referenced both Fire Marshall Bill and Joe Dirt, two of Katie's favorites. Katie calls this note-pairing a "double stop," a fiddle term that I don't understand.


The "squeak" heard in the last verse that Tipper refers to, came from Chatter's phone. She and the Deer Hunter were both filming this song with their phones, and I think Chatter accidentally hit the playback button and played a note from the fiddle kickoff. I've never seen the Deer Hunter record a song with his phone, so I knew that he must have liked it, and that gave me better confidence in what we were doing.
---
Happy Mother's Day to everyone! If you have a special lady who was a mother to you, take time to tell her thank you and that you love her! 🙂 Thanks for watching!
Paul