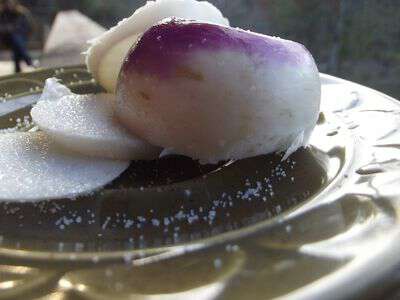 If you guessed yesterday's mystery photo was a turnip-you were right. (you can see the photo from yesterday-unaltered-below)
Somehow I missed harvesting a whole row of turnips from my fall garden. As I walked back from Granny and Pap's I noticed something green and spry looking back there in the garden-once I went to investigate I found the turnips.
My favorite way to eat turnips is raw-sliced and sprinkled with salt-like in the photo above. Granny stews her turnips-sometimes with the greens-sometimes by themselves like potatoes.
I know Patti and her family make turnip kruat each year-that makes me wonder if turnip slaw would be good?
How do you eat turnips?
Tipper