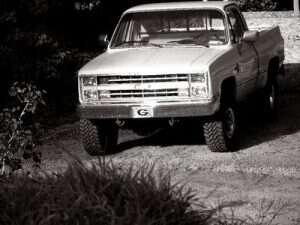 Do you know what a rattle trap is? It's a vehicle that isn't up to par-one that rattles down the road as you drive; a vehicle that dies every time you stop at a red light or stop sign; a vehicle that floats down the road so bad that you can barely keep it in your lane.
We own 2 rattle traps-the one you see in the photo (I'd like to push it off a cliff) doesn't rattle so bad-or maybe it does and you just can't hear it over the hoss of a gas guzzling motor it has in it. But it does die at the most inopportune moments and I can barely keep it in the road it drifts so.
Our other rattle trap really rattles-especially in the right rear somewhere. Its got so many rattles I'm positive people can hear me coming before they see me-but it drives like a dream, holds the road like a race car, and can go forever on a tank of gas.
I've heard the term rattle trap my whole life. If you've ever ridden in a rickety vehicle the term makes perfect sense and one would think that's where the saying originated from a rattle trap vehicle-but it didn't.
I recently discovered the saying wasn't about a vehicle at all-it was about something you held in your hand. Check out what the Dictionary of Smoky Mountain English has to say:
"Rattle trap noun A noise-making device swung in the air, often used by pranksters at serenades.

1939 Hall Coll. Catons Grove TN I guess you people would like to know about serenades and how young folks got along back seventy years ago and longer. We had serenades. They'd make old big rattle traps they'd call'em…My My! How they'd rattle and bang around (Rhoda McMillon) c1975 Lunsford It Used to Be 128 A rattletrap is made by taking a piece of hard wood, first trimming it in such a way that you can hold it in the hand. And on the end you shape the wood into a cog that is longer on one face-rather in the form of a ratchet. One side of the tooth of the cog is trimmed long, the other short. Then on the end of that cog a piece is screwed down, just tight enough till it can revolve around as you swing it. You put in three pegs in that piece-that'd be, say an inch and half long. You take a tough, springy white-oak strip of wood so one end will rest on the cog. And as you swing it around it will make all the noise you want. That's what they call the rattletrap"
Any rattle traps in your driveway?
Tipper
Appalachia Through My Eyes – A series of photographs from my life in Southern Appalachia.