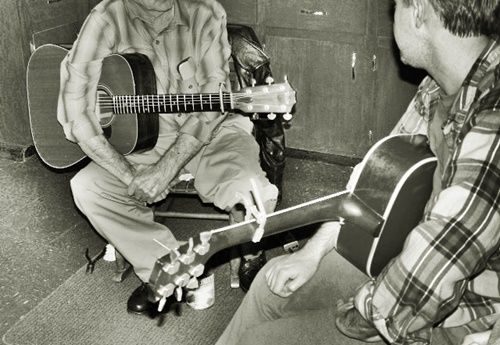 Today I'm sharing another one of my favorite "Pickin & Grinnin' in the Kitchen Spots." We uploaded "Just a Touch of the Past" to our YouTube channel in August of 2009. Shortly after that I shared it here on the Blind Pig and The Acorn.
I worked for a nice lady who's since passed away in the summer of 2009. The drive to her house took me along roads I often traveled as a child in the backseat of Pap and Granny's car.
I spent those summer days reliving memories that lay along the road going from Brasstown to Pine Log and on into Warne. I shared them in the post I wrote about the song.
"Just a Touch of the Past" was written by Larry Perkins or at least I believe it was. This is what Paul said about it when we uploaded it to Youtube in 2009:
"Song about old memories…This may have been written by Larry Perkins. We're not sure. It appeared on an album featuring him and a lot of "all stars" of bluegrass. It won album of the year from IBMA some time in the late 80's or early 90's. The tune is a little similar to "In the Sweet Bye and Bye," but the lyrics are sublime."
I couldn't find any information about the song being part of the album of the year, but Paul is spot on when he says the lyrics are sublime.
"Just a Touch of the Past"
Just a touch of the past is I'll I'm asking Just a feeling I'm wanting to know Its a time where my spirit is walking Its a place where I'm longing to go
How I love the old songs that they are singing How they make my old heart beat with joy They're a light in an ocean of darkness That surrounds all my years as a boy
Now I know all the sadness of the traveler who has gone far away from his home And he knows he can never return there for the place and the people are gone
How I wish that my heart could ever wonder in those days that will be first and last In my memory of things to be cherished Let me live with a touch of the past
Over the last few weeks I've been listening to our version of "Just a Touch of the Past." As Pap would say, I've been hearing it anew.
The first time I listened to it again my first thought was "Wow what a song!"
As I continued to listen to it in the following days my heart was moved in a variety of ways. The words set my thoughts to churning in so many different directions I didn't know which to study first.
I hope you enjoy the song as much as I do because I plan to talk about it for the rest of this week.
Tipper
Subscribe for FREE and get a daily dose of Appalachia in your inbox