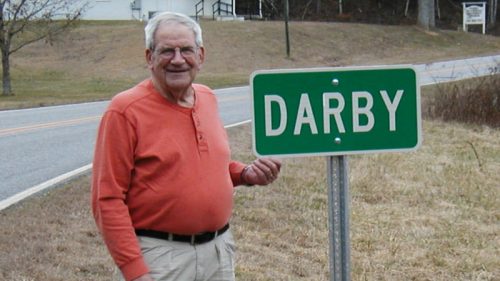 Roy Pipes — April 23, 1937 – April 27, 2021
Long time Blind Pig reader Roy Pipes passed away at the end of April. Here's a bit of his obituary:
Dr. William Roy Pipes, 84, of Murphy passed away Tuesday, April 27, 2021 at his residence. Dr. Pipes grew up in Western North Carolina. He was a graduate of Murphy High School. Roy had served in the United States Navy on aircraft carriers in the Pacific.
After his military service, Dr. Pipes returned to North Carolina and started a family while earning a Bachelor's degree in Education at Western Carolina University. He went on to earn a Master's degree with Clemson University and his Doctorate at the University of Georgia in Athens. "GO DAWGS!"
Dr. Pipes was a teacher at Andrews High School and Murphy High School. He served as principal at White Church, Ranger Elementary, Andrews High School, Murphy High School, Pilot Mountain, and Hiawassee, Georgia. He became Superintendent of Schools in Cherokee County and Hawkinsville, Georgia. He finished his career as a professor at Piedmont College.
Roy also wrote several books, all set in North Carolina.
In his life, Dr. Pipes never lost sight of his relationship with God. He served as a deacon of Peachtree Memorial Baptist Church as well as a teacher in Sunday School and served as Director of Sunday School.
Roy was a wonderful father and husband.
He was the son of the late R. C. and Jessie Davis Pipes and husband of the late Lucy Cope Pipes, who died September 30, 2010.
Surviving are his wife, Betty Jean Brown Pipes; two sons, Alan Roy Pipes and wife, Beth, of Murphy, and Jeffrey William Pipes and wife, Franky, of Fort Worth, Texas; a grandson, Ryan Pipes and wife, Rebekah; two great-grandsons, Harrison and Carter; and a brother, Virgil Pipes of Lubbock, Texas.
---
My first knowledge of Roy was his stint as Superintendent of Schools here in Cherokee County. He was well liked in that position and the other various ones he held in the area.
I talked with him about his writings several years ago. Here's a portion of the interview.
Did you grow up in Appalachia? If so what part?
I was born in the Peachtree Community of Cherokee County. The house where I was born is still standing. My father was a school teacher so we moved some, but most of my life was in Peachtree. I now live on land that was once my grandfather's farm.
Did you want to write as a child?
No, I'm sure I wrote in grade school, high school, and college. I sent a short article, Contrast: Empty or Filled that I wrote in college to the Biblical Recorder. They published it June, 1976. After college I wrote several educational pieces. I still have some, but most are long gone. I wrote my first funny article, Mitzi, but I don't remember when. Several contest pieces won 1st through 3rd place in contest. One poem, Wordsmith or Poet won third place.
What were your writing influences?
First, I would have to credit my father, R.C. Pipes, as we (didn't have television) and he read to us – so much that I memorized some of the poems he read. Poems such as: The Spider and the Fly, The House by the Side of the Road, The Raven, The Old Dutch Clock and the Chinese Plate, to name a few. My mother sang to us, and we were taken to church regularly. My wife Betty influenced me by her encouragement and her editing. Teachers were a big influence. I can't name them all but I remember Miss Travis, Mrs. Coons, Mrs. Miller, and my first grade teacher, Miss Gladys. I could name many, many more. I never had a poor teacher.
Can you sum up what Appalachia means to you?
Appalachia is my way of life. Someone asked my wife how I knew the Appalachian dialect I used in my novel Darby. She answered, "That's the way he talks."
---
A few years back I had the opportunity to be part of a reading event at a local school with Roy, it was a great honor.
Tipper
Subscribe for FREE and get a daily dose of Appalachia in your inbox