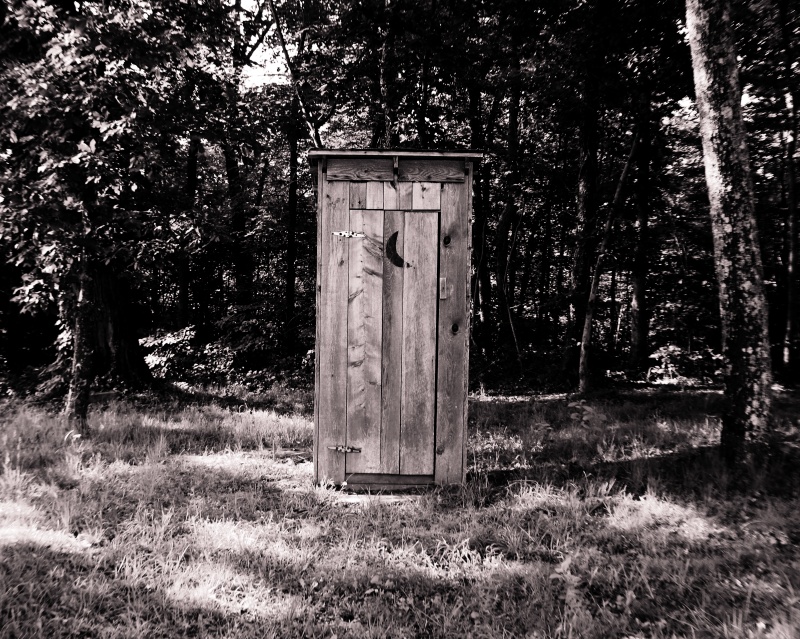 "I was born in the early 1950's and until my sister and I were around 5 and 6 years old we lived at our maternal granny and granddaddy's house…they had an outhouse and like others have described I remember it well. They had electricity, and a waterline to their property and a hydrant outside, but no indoor bathroom. Didn't ever get one until the 1960's when they tore down their old house and had a whole house moved from the other side of town to their property. I'm sure I didn't enjoy some aspects of that outhouse, yet I was thankful to have it because their weren't any woods nearby, only a few good climbing trees, and a big ole Oak that had been there long before I was. In the winter we had that little porcelain red and white slop bucket with a lid. What I dreaded about it was that it was COLD. Later when we moved away from them we had a bathroom and surely it was appreciated but we never had a phone in our house growing up, only in our grandparents houses. We still will use porta potties when we have to, and yes some are worse than others and some I wouldn't go in and headed to the nearest gas station. My sister did get locked in one at a ball park and the only reason I happened upon her hollering to get out was when I went to get something to eat…we still haven't forgotten that one. All in all though back in the day when our outhouse was really needed, it was still a good thing, and pretty normal in those days to have….even with all the….well most of the time anyway."
—Susie 2018
---
I thoroughly enjoy indoor plumbing. I've used porta potties and always hated it! I can barely remember using an outhouse that was still in use when I was very young. I didn't like it either…although it was better than a public porta potty, especially the one I was in recently—yikes!
A while back the subject of outhouses and slop jars came up at Granny's. I asked her about having to use a slop jar at night because I thought I remembered some story about one at Granny Gazzie's house.
Granny kept telling me she didn't know what I was talking about and in exasperation I said "You mean to tell me you don't remember ever using a slop jar?" She said "No they were mostly used for sick people or elderly people who couldn't get around good. In those days you learned real quick how to manage your food and liquid intake to prevent having to go outside to the outhouse at night or use the slop jar."
If you'd like to hear a funny song from Pap and Paul about an outhouse go here.
Tipper
Subscribe for FREE and get a daily dose of Appalachia in your inbox