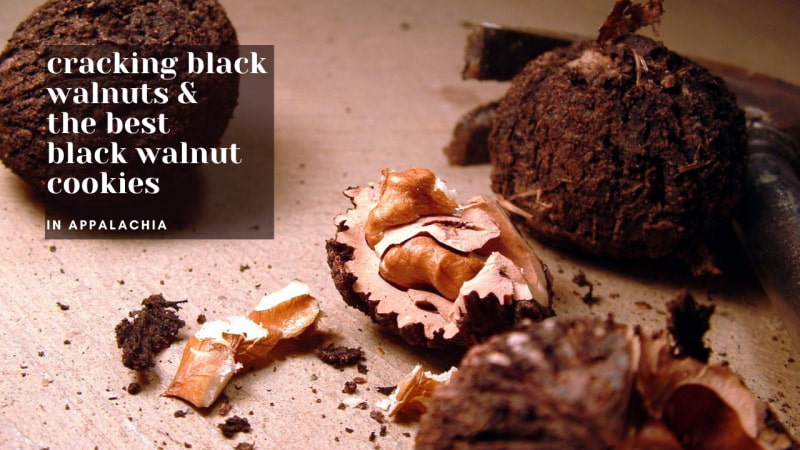 This is the time of the year for black walnuts in Appalachia. Granny has worked all hers up and has been making the best cake ever! I'll have to share the recipe with you soon.
Today I'm sharing my latest video about you guessed it black walnuts. I also share The Deer Hunter's great grandmother's black walnut cookie recipe in the video—oh my they are good cookies!
Do you like black walnuts? It seems people are either plumb crazy about them like Granny and me or they don't care for them at all.
Go here for the recipe.
Help me celebrate Appalachia by subscribing to my YouTube channel!

---
Here's a list of the recent Thankful November winners-if you see your name in the list be sure to email your mailing address to me at [email protected]
The winner of "My Life in Brasstown" is Colleen Holmes who said: "Love your blog. First thing in the morning I read it with my coffee."
The winner of "Foxfire 3" is William Dotson who said: "When I was little we used to have a homemade sled that Dad used to use to haul feed to the livestock and he had built a box on it, then when we could we would use it for sledding but it was really heavy so the older kids would pull it back up the hill but we sure had a ball riding in the box of it."
The winner of "Foxfire 5" is Lynn Legge who said: "i would have loved to see a turkey shoot…and also get a chance to visit with everyone…ohh tipper you really spark my imagination. i had to order the doll maker book… really loved it…but was so saddened by what the mom went through…..we dont realize how blessed we really are nowdays… but i really didnt like the ending…dont want to spoil for those who havent been lead by your posts to look up something or pondered over something you wrote.
again i thank you for teaching us your heritage dear tipper
have a very wonderful thanksgiving
sending much love to you all
lynn"
Today's Thankful November giveaway is a copy of an eBook I've wrote "My Favorite Appalachian Recipes." To be entered in the giveaway leave a comment on this post. *Giveaway ends November 26, 2020.
Tipper
Subscribe for FREE and get a daily dose of Appalachia in your inbox