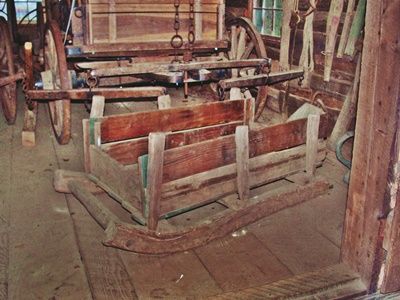 Sled at Foxfire Museum
"Somebody wrote, "The roads are not"—now don't blush—"the roads are not passable, not even jackassable." They were very narrow. This road that goes from Cranberry on into Plumtree and to Spruce Pine, I remember it distinctly because I lived in Minneapolis and walked it every day during the four months of school, and then I'd have to go to the mill and the store and the post office, borrow meal and flour. (Usually neighbors borrowed meal and flour and everything else when they'd run out.) It wasn't a good sled road. I remember when this [Highway] 19 wasn't a good sled road. It had chuck holes in it and rocks, and the wagons would rattle over it like a freight train. This road was just a path then. and I know a lot of the highways now in Avery County that were just paths, and some were blazed trails. I remember we had a lot of blazed trails here in Avery County when I was a young boy. They were bad.
Most everybody had work horses, at least two of them, some several. And they had sleds. They used big sleds, medium-sized sleds, too, of course, depending on whether one horse or two horses or three horses would pull it, through the snow. Yeah I was out in snow all the time nearly every day when I was a boy. I was the only son of the family. My father had eleven children."
—Horton Cooper "Mountain Voices" by Warren Moore
—-
Pap told me when he was a boy folks used sleds more than they did wagons. Not the kind of sleds used in snow, but sturdy strong sleds like the one in the photo that could be pulled along bumpy mountain trails.
Tipper
Subscribe for FREE and get a daily dose of Appalachia in your inbox