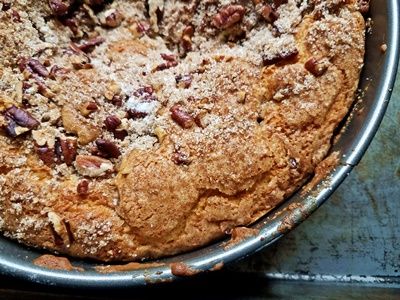 I've been on a coffee cake kick lately. I remember back in the day when all the ladies at church were crazy over coffee cakes. Including Granny.
Truthfully in those days I didn't see what the big deal about coffee cake was. As we grow older our tastes seem to change and these days I think the church ladies knew what they were talking about.
One of my favorite coffee cake recipes comes from the "Folk School Cookbook" published by John C. Campbell Folk School.
Lynn Gault's Sour Cream Coffee Cake
Nut filling
1/3 cup white sugar
1/3 cup brown sugar
1 cup chopped pecans
1 1/4 teaspoon cinnamon
Dry ingredients
2 1/2 cup all purpose flour
2 teaspoons baking powder
1 teaspoon baking soda
1/2 teaspoon salt
Wet ingredients
1 cup butter softened
1 cup sugar
3 eggs
1 cup sour cream
1 teaspoon vanilla
1 tablespoon lemon juice
Mix nut filling ingredients together and set aside.
Sift dry ingredients together and set aside.
Cream butter and sugar until light and fluffy.
Add eggs, sour cream, vanilla, and lemon juice mixing well after each.
Stir in dry ingredients until just mixed.
Spread half the batter into a greased (or use parchment paper) 9-inch spring form pan. Sprinkle half the nut mixture on batter. Drop the rest of the batter by spoonfuls onto the nut mixture. Sprinkle the rest of the nut mixture on top and bake at 350 degrees for 30-35 minutes or until cake is done.
To pick up your own copy of the "Folk School Cookbook" go here.
Tipper
p.s. Lynn Gault was a driving force in the development of the Folk School's ceramic program.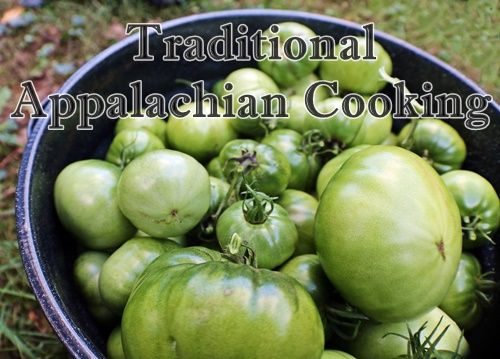 Come cook with me!
MOUNTAIN FLAVORS – TRADITIONAL APPALACHIAN COOKING
Location: John C. Campbell Folk School – Brasstown, NC
Date: Sunday, June 23 – Saturday, June 29, 2019
Instructors: Carolyn Anderson, Tipper Pressley
Experience the traditional Appalachian method of cooking, putting up, and preserving the bounty from nature's garden. Receive hands-on training to make and process a variety of jellies, jams, and pickles for winter eating. You'll also learn the importance of dessert in Appalachian culture and discover how to easily make the fanciest of traditional cakes. Completing this week of cultural foods, a day of bread making will produce biscuits and cornbread. All levels welcome.
Along with all that goodness Carolyn and I have planned a couple of field trips to allow students to see how local folks produce food for their families. The Folk School offers scholarships you can go here to find out more about them. For the rest of the class details go here.
Subscribe for FREE and get a daily dose of Appalachia in your inbox