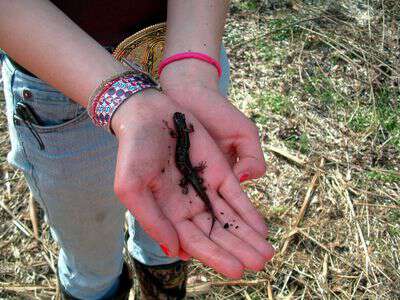 Did you ever catch a spring lizard? Back in the day, if us kids were playing in the creek we always looked for spring lizards. Even now I can't stop at a creek without turning over a few rocks just to see if I can find one.
I was always good at catching them. You've got to be quick and not too scared of sticking your hands under rocks and mossy creek banks. Both the girls inherited the trait from me, not sure what good it will do them in the long run, but it's provided much entertainment in their childhood creek days.
Years ago it was fairly common for kids from Wilson Holler to make a few extra bucks by catching spring lizards to sell. They make dandy fishing lures. I believe its illegal to catch spring lizards today. I'm hoping one of you will tell me I'm wrong.
Just like everything else, the spring lizards farther up the creek were bigger-faster-and wilder. I guess its like Pap says, once you get out of the settlement of people things are different in this ole world.
Tipper
Appalachia Through My Eyes – A series of photographs from my life in Southern Appalachia.