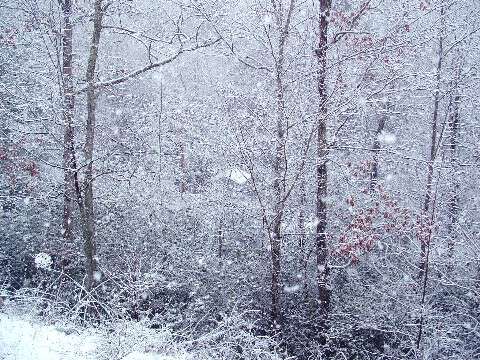 On another snowy day in the mountains of NC, it's time to spread the love for February.
Each of you who commented in February made the Blind Pig a better place to visit-and those of you who commented on the essays-helped encourage some young Appalachian Writers too keep writing. I thank each of you:
Sandy Carlson, Janet, Mary's Writing Nook, Paula, Kathleen, Just Jackie, The Texican, Julie at Elisharose, Miss Cindy, Brenda Kay Ledford, Sheila B., Osagebluff Quilter, Terry, Matthew Burns, GrannyPam, Warren, Lanny, The Fishing Guy, Mary Traveling Hammer, Petra Michelle, SolsticeDreamer, David Templeton, Farmchick Paula, Nancy M., Glenda, Nancy Simpson, Fencepost, Rick's Whitetail Woods, Trisha Too, Mary Life In A Cordwood Cabin, My Carolina Kitchen, Farmchick, Emily Cole, Paul Saltcreek, Patty Hall, JoLyn, Olecrowsnest, The Welldigger, Rachel, Stacey, B. Ruth, CheE, Sallie Covolo, Barbara Gantt, Vicki Lane, Mary Libby, Frances, Jay Henderson, wkf, Michelle, Susie, Ethel, Julie Curtis, Janet Pressley, Eva Nell Mull Wike, Ph.D., Sarah, Wanda, Benny Terry, Two Square Meals, Rooney Floyd, Apple, Stacey South Western PA, Elizabeth, Dee from Tennessee, Lynn, Elizabeth Thomas,  Sue, Vera, Steve A in Florence Ky, Pat in East TN, Charles Fletcher, Shirley, Daniela, doggybloggy, Teresa  Clint, Kay B., Helen G., Jen, Kay Keen, Elliott Queen, Sandra, April, Doug, December & Josey, Jamie Keener, Faye Marshall, Bruce, Crazy, Betsy from Tenn, Trixie Goforth, Crystal, Heather Rojo, Jonathan, Apple, Betty Blankenship, Greta Koel, Ms. Christy Horne, Henrietta Newman, Felted Kiwi, JennyJenny, Susan Rentze, Donna W, Chrisq, JoyceAnn, Ruth, GAFarmWomanPam, Haystack Jackson, RazorFamilyFarms.com, Granny Sue, Egghead, Threecollie, M. Diane Rogers, Teresa Maggie Grace Creates, Abbey Jenkins, Jennifer in OR, Georgie, Richard Beauchamp, Audrey, Marion, Nicolezmomma, Stove Pipe, Barbara Taylor, Mickey McKee, Rick M, Baking Barb, Sandra Spencer, Gwen Mangelson, Brenda S 'Okie in Colorado', and Jenny.
Even though it's snowing outside my window, my mind is on: spring, seeds, seedlings, greenhouses, warm dirt, fresh veggies, pretty flowers, mushrooms, sign tests-I guess you get the picture I'm dreaming of this summer's garden. In the spirit of my thoughts-this month's Spread the Love prize is a scrap-booked garden journal-made by me.
The winner is…Rick from Whitetail Woods.
Actually Rick isn't the only winner-since I'm dreaming of the beauty above-I've picked 3 additional names this month-I'll send each person a few flower seeds from the ones I saved last fall. Who are the 3… Jen, Stacey Southwestern Pa, and Marion.
I hope all of you continue to visit the Blind Pig & The Acorn-and don't forget click on a commenters name above and go for a visit, I know you'll be glad you did.
Tipper