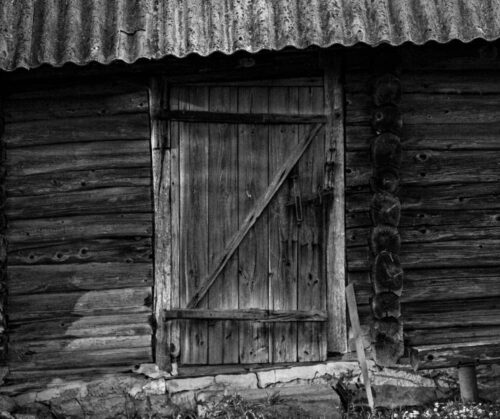 "Dad, when he'd kill a beef, we'd dry it. He had a smoke house. He'd hang it up, keep a-smoking it and dry it. And then he had another one he built that we dried all our vegetables in. We dried our apples in it, dried our beans in it, dried our pumpkins in it. Had shelves in it and then had a furnace under it.
Built a fire under it, and when the first shelf got dry, we'd change it, take it out and put it on the top. Take the top one out and put it down there.
Dried, maybe, a hundred pounds a week of pumpkin. Dried berries, blackberries, huckleberries, you know. Then Mother put 'em in a sack and hung 'em up. Put the pumpkin in a sack and hung it up. Put the what we call leather britches, these string beans, we'd string them up and hang them behind the stove.
We used hickory wood and corn cobs to dry the beef. See, we had soaked it in salty water maybe two days before we cured it. Take and pour it over it; then turn it. Then wipe it off. Lay it on a shelf on a white cloth to dry.
Just cut the beef up and hang it up by wires. Put the fire under it. Then the smoke cured it. Didn't have no floor in the smoke house. Just put a fire under it and smoke it.
When we got it smoked, we'd take what you make sheets out of, and we'd just sew that around there right tight. And that was it. And then when we wanted some, we'd just go and take 'er down; just strip 'er down and get what you wanted of it. Now, you could eat it just like it was or cook it, either one. We'd just eat it dry. We called it jerky. We had a knife that we could use to cut it with as thick as we wanted to. We didn't have to cook it.
I mean we young'uns would cut us off a piece of that jerky and put it in our pockets and go to cut hay. And we'd take our knife and cut us off some to eat. Boy! It was good! I was salty. Ready to go!
—Stanley Hicks 1911 Watauga County – "Snowbird Gravy and Dishpan Pie" written by Patsy Moore Ginns
---
I wish I had a smoke house for drying things, truthfully I wish I had the pasture to grow the beef too. I find old ways of food preservation fascinating! When you think about the large families most folks had when Hicks was a boy, it's hard to believe they grew, hunted, and preserved pretty much every thing they ate.
Folks in those days stayed busy from sun up till sun down trying to keep enough sustenance to stay alive. Reminds me of something Granny said one time.
I was getting Pap to show me how to make parched corn from some field corn we grew and gritted bread from the parched corn we made. Since we didn't have a grinder I put the parched corn in an old flour sack and took it outside to beat with a hammer. As you might imagine it took a while to get meal fine enough for us to use.
As I was talking about what an arduous job the whole process was Granny said "When me and your daddy were growing up everyone's time was took up by getting food and water and cutting wood to cook and stay warm. There wasn't any time left over for the meanness that goes on today."
Tipper
Subscribe for FREE and get a daily dose of Appalachia in your inbox