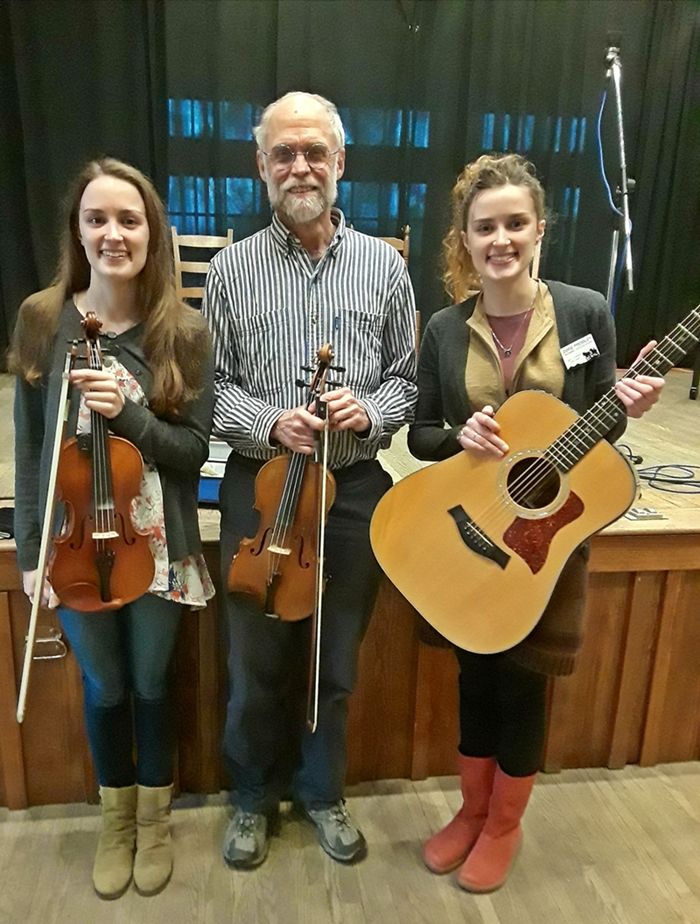 Chitter, David, Chatter
Our longtime friend David Kaynor lost his battle with ALS this week. If you've been reading the Blind Pig for a good long while you'll remember David our fiddle playing friend from New England.
The girls and I met David in 2012 during the John C. Campbell Folk School's Dance Musician's Week. That was the first year Chatter and Chitter got to take the class and we really had no idea what to expect. We all wondered if the girls would be able to keep up in class and wondered what the teachers would be like.
Turns out all our wondering and worries were for nothing. The girls loved the class. They gained tons of musical knowledge, made life long friendships with the teachers and the other students, and had a ball of fun while doing it!
Due to the great generosity of some anonymous people and the folk school itself, the girls have attended several Dance Musician's Weeks since that first one. Over those years they strengthened their friendship with David.
Typically David would come a few days early for the class and stay with us so that he could spend more time with Chatter and Chitter.
In recent years the girls traveled to Michigan with David to play a series of concerts as well as to David's home state of Massachusetts to play with him there.
The girls filmed a video of one of David's original tunes "High Clouds."
I hope you enjoyed the girls playing David's beautiful tune.
Here's some other video memories of David.
A video of David and the girls playing a tune he wrote for them "Twin Delights."
The girls and David playing "Grasshopper Sitting on a Sweet Potato Vine" during one of his stays at our house.
An amazing fiddle tune "Wilson Holler" David wrote about where we live-it is performed by the Vermont Fiddle Orchestra.
---
Blind Pig reader Larry Griffith's wife is continuing to improve. Please remember her and Larry in your prayers. If you'd like to send her a card here's her address:
Anita E. Griffith
161 McKnight Street
Ashland, KY 41102
Tipper
Subscribe for FREE and get a daily dose of Appalachia in your inbox