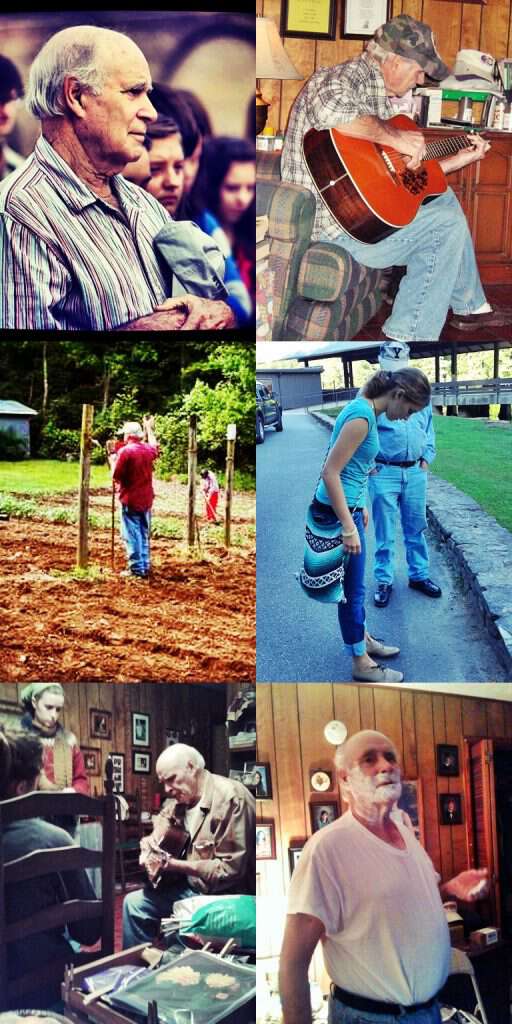 Grief is a funny thing. Some days I feel so distant from Pap that I wonder if he was really real. Other days I find myself thinking he's just gone a big trip-you know like a world tour vacation…even though as far as I know Pap never went on any vacation. The only trips we ever took when I was a kid was to go see family who didn't live here.
Then there are the days when I cry all the way to work, trying to hurriedly dry my tears in the parking lot and pretend I wasn't crying when I walk inside the building. Then I spend my day smiling when I'm supposed to and pretending to listen to people talk when I'm actually miles away remembering Pap or thinking on all the things I wish I could tell him.
Yesterday Chatter needed a recent picture of herself and was looking through the photos on my computer. She wasn't having much luck finding one so I went to show her the photo folder on my desktop. As she scrolled down I saw all the photos of Pap in the collage above, sat down in the floor, and erupted into tears. In only a few seconds I got ahold of myself and looked back up to the screen to see if she found something. By then she was crying too. I smiled through my tears and said "We're a pretty pitiful bunch ain't we?" Chatter laughed through her tears and agreed.
For well over a year before Pap died we'd been fooling around with the song Precious Memories. We tried all sorts of arrangements and I liked every one of them. What a song!
From the first time we did it I think we all knew it needed to be Pap's song-it needed to be about him. I honestly don't know if we felt that way because we knew his days were passing swiftly by or if we heard the full meaning of the words every time he sung them because he clearly believed them. Maybe it was a combination of both.
Pap especially liked the song. I'm positive he liked it for the same reason most people do: the words literally bring precious memories to mind and evoke a longing for those who have long since gone on.
I am beyond grateful that I can sing the words of Precious Memories and mean every last one of them, I'm thankful Pap could do the same exact thing.
A few tangible precious memories I'm thankful for:
The pictures of Pap and the memories that go with them. Like: Pap picking his guitar in the living-room and showing the girls how to play something, Pap being patriotic at a 9-11 Ceremony, Pap laughing at Chitter and her new hipster shoes, Pap in the garden-working and teaching the rest of us the way.
We were so picky about what videos we put on youtube. We never used the video above because we thought we could do it better, but now I think it's pretty good if I do say so myself. No telling what songs we've rejected over the years since I started the Blind Pig and The Acorn in 2008. And no telling what little back and forth the camera caught-like it did in the video above. We have a whole boot box full of dvds of music we've taped-that box =s lots of precious memories.
There are old tapes and reel to reels of Pap's music too. The other day Paul found one of Pap and Granny trying to sing in the back bedroom away from all the racket of us kids. A little bitty Tipper kept running in to tell them the wind was blowing and she was worried.
There's a set of videos of Pap teaching a series at church back in the 90s.
There's recordings of Pap telling stories over the last year. One I recorded a few days before he died.
Pap and Paul's recent cd Shepherd of My Soul is now available on CD Baby. You can download the entire cd or pick and choose-only purchasing the track(s) you prefer. Go here if you're interested. You can also find the cd on Itunes and you can listen to it on Spotify.
Tipper