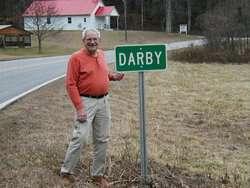 Blind Pig reader and Appalachian Writer Roy Pipes has a couple of new books out. Some of you may remember my interview with Roy a couple of years ago-if you missed it go here.
Here's the details about Roy's new books in his words:
Mammy: A Term of Endearment
I have a new novel I titled, Mammy: A Term of Endearment. Mammy is a fictional story of the slavery of a black woman who after being freed became my father's mammy. Some feel the word Mammy is a racial term, but my father considered it a term of endearment.
It's a story of the discrimination many blacks and poor whites still face today, not only in the south but also in the north. It is a story of love, hate, romance, and humor.
Included in the novel are stories of slaves and freed slaves, the stories are principally about Mammy's family but include the lives and experiences of both slaves and freed slaves.
The novel starts off telling how on a visit with my father to a murder trial in Wilkes County, NC, at age eight, I met Mammy who was them 98 years of age, and decided to learn more about slavery and later decided to write this novel.
A Haven for Willa Mae
A Haven for Willa Mae is the first of a two series novels. It is a novel containing danger, suspense, romance and treachery along with abuse, deceit, murder, kidnapping, and insanity. It is a gripping action packed romance/mystery novel where William, an emergency room doctor on his first hospital assignment, falls in love with Willa Mae, a physically abused married patient. Willa Mae's husband, Howard, is the spoiled son of a wealthy and influential family who will go to any length, even murder, to exact revenge.
At first, Willa Mae refused to press charges against her abusive husband, but William felt if the abuse continued, Howard would eventually murder her. At the risk of his own life and losing his medical license, William refused to let the matter drop as he considered it a matter of life or death.
Willa Mae married Howard during a time of weakness after her mother was killed in a car accident that the sheriff suspected was foul play, but had no suspicion that Howard was involved.
The novel takes the reader through years of tumultuous times during which Willa Mae grew to love William, the love of this couple grew ever stronger to the point where nothing could come between them.
Roy also wrote a sequel to the book I first interviewed him about-Darby the title of the sequel is Hanging Dog and here's a bit about it from Roy:
Hanging Dog, An Appalachian Community is a sequel to my Appalachian novel, Darby. Hanging Dog is a story of the love and struggles of a young couple and their two small children. Isaac Caldwell, who after surviving World War II, purchased a small farm in the Appalachian Community of Hanging Dog in Western North Carolina.
Isaac and his wife Shirley, were looking forward to their new life, and welcoming the struggles of making their small farm a success.
Instead, they became involved with three bullies who had murdered the previous owners, raped his wife, and killed a neighbor who had alerted Isaac and Shirley regarding the tormentors.
During these times, their love for one another grew stronger, love letters were written by both Shirley and Isaac. Other family members' lives and stories are brought into the novel as Hanging Dog, the sequel, became connected with Darby.
Hanging Dog is a love story, a family saga, and a mystery that will be hard to put down, and will bring tears to your eyes.
—————–
All of Roy's books can be ordered from Amazon.com, or locally at the Curiosity Bookstore, Murphy; Hill Gallery in Brasstown; Bible, Books, and Blessings out on US 64 West; Hanging Dog General Store in the Hanging Dog Community, and wherever good books are sold.
AND if you leave a comment on this post you'll be entered in a giveaway to win a copy of Hanging Dog, An Appalachian Community. Giveaway ends Sunday July 26.
Tipper