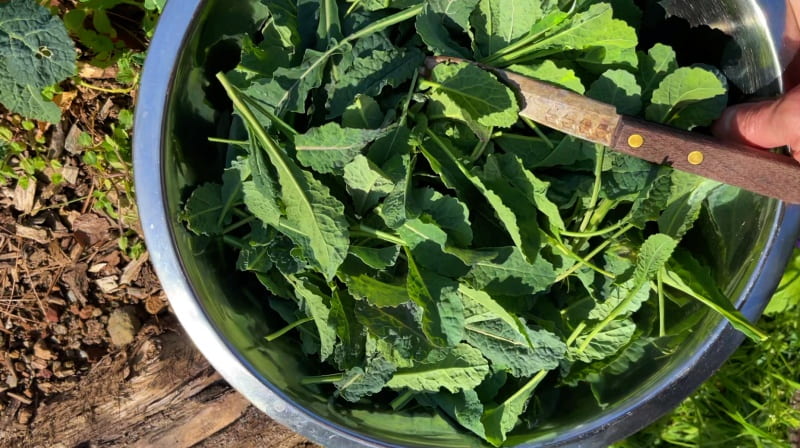 We're still eating kale I planted last fall. It's beginning to bolt though, so before long I'll pull the rest of it up and feed it to the chickens before planting something new in it's spot.
I really like kale, pretty much any variety of it. The way I eat it most often is straight from the garden in a salad. A lot of folks prefer not to eat kale raw, but I like the flavor it has.
The rest of the family prefer cooked kale.
If you cut the leaves from the plant as you harvest, the plant will continue to produce leaves for you—that's how I still have some from last fall. As I harvested through the winter new leaves grew.
I cut the leaves, wash them, and drain well.
Add butter to a pan and allow it to heat up. If you prefer, you can use olive oil or the oil you prefer.
Once the pan is hot add kale and season to taste with salt, pepper, and whatever other seasonings you like. There'll be a lot of hissing when the kale first hits the pan, but it doesn't last long.
Cook kale until it's completely wilted. I like mine straight from the pan, The Deer Hunter puts a dash of lime or lemon juice on his.
Tipper
Subscribe for FREE and get a daily dose of Appalachia in your inbox