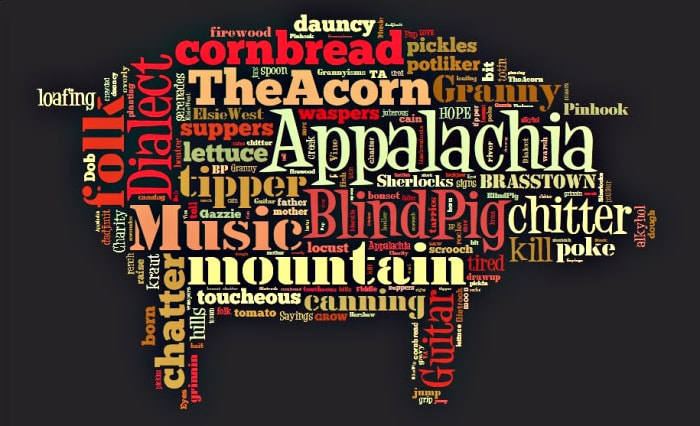 The comments on yesterday's post proved the names in Appalachia are as colorful as the language we use. I'm sending each of you a big thank you for the wonderful comments. You gave me much fodder for the project I'm working on.
All the comments are great, but here's a few that jumped out at me.
Tipper,
I was so happy to see your post today! I Love the names from our region! Also, over the years, I have thought about how some names are butchered by us. In our community of Guntown, Hawkins County, TN. we had many ladies with beautiful names that were not known to the public until they passed on. For instance, Ollie for Olivia, Lyd (long I sound) for Lydia. One lady that lived near us was Tinnie. Her given name was Tennessee. In my husband's family, there were sisters named Texas and Italy. Italy was pronounced It-ly. Aunt Texas had two sons named Huston and Dallas. Then there was Aunt Alafair. On my side there was my cousin, Douglas MacArthur Forgety and my great Aunt Melissa Sudee Kate. That is just a few from my neck of the woods. Thank you for your blog, it makes me remember sweet things from my past!
Sherry Case
---
I've heard Velma called Velmer or Velmar, Elva to Elvie, and in 1961 my good friend Donna had returned from her first year at college and wanted to go down south to my Grandparents with me for two weeks. My Grandmother knew her name was Donna but she called her Diner even though she heard me calling my friend Donna. We never thought to ask her why? On my Father's side he had an Aunt Swepter who was the oldest child of his Grandfather and I had never heard that name before.
Dee
---
One of my great grandmothers was named Sophronia. They called her Fronie. My husband's grandmother was named Buena, and she was called Bewnie.
Paula Rhodarmer
---
After finding and enjoying your blog so much, I now realize where so many of my family's sayings originated. Raised by my Grandparents (Maternal) whom both came from N. W. Alabama, but met and married in Oklahoma in 1911. I recognize most of the ones you have mentioned. We were raised on the same kind of good homegrown garden vegetables, fresh milk and eggs. Not so much on venison…They raised and butchered a hog every year. Later they butchered a calf annually after we got a freezer. Wonderful carefree childhood in the country. One of the funniest memories I have about names: My Grandmother had a visitor and my cousin were in the next room playing when we heard the woman telling Mama about her daughter. She said,' "Yes, Marthee had twins and she named them Eller and Steller. We cracked up with the giggles, but as you can imagine, it was not so pretty nor funny after Mama's company left. I am 80 years young, and our family has been having an annual family reunion for the past 56 years at an organized camp ground at the lake up home. Aunts, Uncles, cousins, in-laws and probably some outlaws have met every year up until the pandemic stepped in and made us cancel this last couple of Easter week-ends. We gather on Friday night for a big fish fry followed by picking and grinning around the campfire; Saturday morning most of the men go to the Lodge to play golf. Saturday night is Mexican pot-luck (yummy), and again followed up with music into the night. Sunday noon is when we have the HUGE FEAST! This is followed by a very large Easter egg hunt for the little ones. We now number to more than 100 people. We come from everywhere across the nation. My husband and our peers are now the oldest generation (Seems impossible). We are the third generation of senior members. Of course, every year we have a new crop of babies added. The campground has individual cabins, bathhouses, and the main meeting hall/kitchen where we all meet to visit, play dominoes, work jigsaw puzzles, play music, etc. The kids have a huge area to play out of doors. It is a most wonderful tradition that I think our children will continue to carry on.
Betsy Wilson
---
My grandmother and her sisters were named after states. My grandmother was Virginia (Ginny) her sisters, Maine (Mainey) Nebraska (Braskey), Kansas (Kanny). I used to think it was weird the parents did that but now I think it's cool that they dared to be different.
Ron Banks
---
My maternal grandma died before I was born. Her name was always pronounced as …LOU I ZY. . When I was a teenager, my mom decided we should go visit the OLD graveyard up on the high mountain where new owners of the land had paused their decade long strip mining. We took a picnic and brush clearing tools and we kids climbed in the pickup truck bed. After a rocky ride, the road leveled out at what mom once knew as her homeplace. We all took a hoe or a rake and she directed us toward a far corner where Graves were mostly marked by a big rock for a headstone, with a smaller one as a foot stone. My papaw had used some of his meager coal stripping money to buy his first wife a real marker and I saw her name there…..LOUISA
Kat Swanson
---
Verner for Verna….Murry for Mary….my Gndma Mauney's name was "Theodocia" and was known as "Doesh"….my Grt-gndpa Cebrum Byers was known as "Cebe"…..Roe for Monroe…
Don Byers
---
My paternal grandfather's name was Ira. Talking with an elderly gentleman whose family was friends with my dad's family, couple years ago, I kept referring to Ira, pronouncing it correctly, of course (EYE-rah). He finally asked, "Who? Who you talking about?"
"My papaw."
"Oh, you mean Ary (AR-ee)."
Thinking back to my youth (I was only 10 when my papaw passed), I recalled that that was indeed what he was called by the adults.
Joe F.
---
Mammy, Mom's mother, had ten girls and named eight of them with names ending with an a. They were names like Lola, Dora, Vesta and etc that were seldom ever pronounced the way they were spelled. Mom's name was Emiline. I thought that was an unusual name but never asked Mammy how she came up with it. Mammy's name was Thursa and was known as Thurs. Her mother was a full blooded Cherokee Indian. I have often wondered if the name was derived from Thursday. My mother-in-laws name was Zeda. Her husband and others called her Zeddie. They had a daughter named Betty who was trying to impress a certain boy in school. The boy called one evening and asked for her. Betty's dad thought the call was for Zeddie and said she was down there slopping the hogs. I'm not sure Betty ever forgave him.
Shirl
---
There are a lot of unusual names in my family tree but my favorite is "Happy". Happy was my great great grandmother. Her real name was Happuch Matilda Gibson. Happuch was a probably a shortened version of the Bible name Keren-Happuch. Keren-Happuch was the youngest of Job's three daughters. Happy married John Sadoc Smiley. There is another Keren-Happuch in my family tree but she wasn't happy. She went by Karen.
Ed Ammons
---
My great-great grandmother Ora Barnes Vick had a sister named Homer. Homer passed away shortly after her eighteenth birthday. My great-grandmother Vick, who died in 1979, just 6 weeks short of her hundredth birthday, never spoke of her – at least in my hearing. When I was bitten by the genealogy bug in 1999, I learned of Homer from the "cemetery books" produced by the sweet ladies of the county Homemakers Club (which seems to be a Kentucky thing as far as I know). These ladies risked copperheads and rattlers, chiggers, mosquito bites, bulls and poison ivy to painstakingly record every known grave in the county. Some of these cemeteries hadn't been used or maintained for sixty years and could no longer be accessed by even a dirt road. A few, sadly, were small family burial grounds on "old home places" that had been used to pasture cattle for decades. Some were barely readable even in the early 1960s when the first two volumes were printed. I will be forever indebted to these women. It was my privilege to thank some of them in person and through notes to the county genealogical societies of the four Kentucky counties where the earthly remains of so many of my ancestors now rest. I started my family history after all who came before me were gone – not a practice I recommend. The two ladies who climbed a steep bluff to record Homer's grave assumed it was the grave of a man. The inscription read "Homer Barnes dau. of Cornelia and Immanuel Barnes," but it was so weathered that you could only decipher the abbreviation for "daughter" if you knew what it should say. A second cousin found a labeled portrait of Homer in her late mother's things. She was most certainly a young woman.
Lemma is another strange (to me) family name but there are several Lemmas in the cemetery book. I am a direct descendant of a "Lorenzo Dow Andrews." Researching this name, I found that many southern families have a Lorenzo Dow [surname]. Lorenzo Dow (1777-1834) was a famous traveling evangelist. I also have a Horacio Gates Lane ancestor, named for one of the less successful Revolutionary War generals. One of my great grandmothers was named Tabitha – long before it became a popular girls name in the 1970s because of the TV sitcom "Bewitched." She pronounced her name with the accent on the second syllable, unlike today's Tabithas.
Patricia Wilson
---
Anytime I need help all I have to do is ask and Blind Pig readers go above and beyond in responding to my call. Be sure to jump back over and read the other comments if you missed them yesterday.
Tipper
Subscribe for FREE and get a daily dose of Appalachia in your inbox