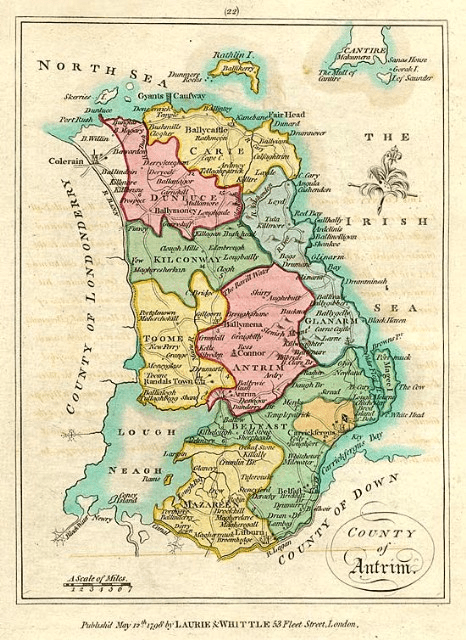 Today's Guest Post was written by David Anderson
———————–
Parallel Lives of Two American Patriots
James Anderson, Sr. & Martin Maney
It would seem an improbable scenario to consider how two Irish immigrants, both most likely being strangers in their native Ireland having led lives that ran so close a parallel to one another as they began their new lives in the English colonies of north America.
James Anderson, Sr.: 1740- 1814; County Antrim, Ireland
James Anderson, Sr. was born in the year ca 1740 in County Antrim Ireland, a county that is situated on the northeast coast of the island and is more specifically located in present day Northern Ireland. It is believed that James was an Irishman by birth, but according to historical accounts he was of Scottish ancestry. This could be born out by the Anderson surname which is generally attributed to Scandinavian origin.
As a young man he had decided to leave his native homeland either by necessity or simply seeking the opportunity to make his fortune in the North American colonies. Several years prior to the beginning of American Revolution he left Ireland and his family along with the dismal prospects for a meaningful life in eighteenth century Ireland and boarded a ship for passage to the English Colonies in North American. James is believed to have entered the colonies through either the port of Philadelphia, Pennsylvania or in the port near Fredricksburg, Virginia. Prior to his participation and during his American Revolutionary War experience James was found living in several of the English colonies. These included New Jersey, Maryland, Delaware, and finally into North Carolina soon after the conclusion of American Revolution.
James arrived in the American colonies ca 1760 as an indentured servant as was the case with most of the Irish immigrants during the colonial period. However, continued search is presently underway to find and verify accurate records documenting the Colonial landowner or other parties to whom he was indentured. His service as an enlisted soldier with the rank of private in the American Revolutionary Army afforded him the opportunity to take advantage of future benefits offered to these war veterans. This was the promise of free land as payment for service in the War for American Independence.
After reaching the American colonies he eventually made his way to county Essex in the colony of New Jersey. Many of the landowners in the colonies did not have sufficient human labor to operate their vast estates, so in order to operate their farming or other operations the landowners through agents in England would recruit men who were willing to leave their homeland and relocate to the colonies. Specific documentation as to his occupation prior to the American Revolution is uncertain, it could however be safely assumed that he probably was employed in the farming operations of one or more of several wealthy colonial English landowners and Tobacco producers who had established claims in the colonies.
Since James later became a prosperous farmer in the Buncombe county area of North Carolina it could again be assumed that he was bringing with him the craft that he had followed earlier in his life. Many of the Irish immigrants who came to the colonies could not afford to pay ships passage, so in order to repay the expense of passage to the colonies the immigrants would enter into an agreement with the sponsors that subjected themselves to being enlisted as indentured servant for a period of years. This enabled the servants to repay the debt of passage to the sponsors to their new home in America as well as the promise of owning their own land which would have been impossible in their native Ireland.
Historical records show that James Anderson was married to Lydia Mallett and was still living in the New Jersey colony just prior to the beginning of the American Revolution. Five children were born to James and Lydia during this period. When the War of Independence began in 1775, James enlisted as a Private in the colonial Army.
Official documents filed in the US National Archives find James Anderson serving as a Private in the New Jersey Militia that was commanded by Captain James Bonnel. This Militia was part of Spencers Regiment that was commanded by Major General John Sullivan. After he was discharged in 1781 James was found to be living with his family in New Jersey until the year 1782. Further historical records indicate that he later moved to Delaware in 1784. He then again moved further south to Surrey county North Carolina sometime before 1790. His final move was to Buncombe county North Carolina soon after 1790 census.
After James had moved his family to Buncombe county ca 1794-95 he settled on land that was situated on Gabriels Creek. This farm was situated near the present town of Mars Hill, North Carolina. Land transfer records show that he also owned land in 1797 which consisted of a 50 acre tract that he received as a land grant from the state of North Carolina for his service in the Revolutionary War. A later document finds James and his family living on a farm that was situated on the Paint Fork of the Little Ivey River. James continued to accumulate land through the year 1807, finally owning several hundred acres in the surrounding area.
The exact date of James Anderson's death is not found in Buncombe county records, however family tradition holds that he died between the years 1810-1814. A headstone was placed by the Blue Ridge Chapter of the Sons of the American Revolution in the Gabriels Creek Missionary Baptist Church Cemetery located near Mars Hill, North Carolina in a Revolutionary War Soldier Grave Marking dedication ceremony.
One of the grandsons of James Anderson, Sr. was Lazarus Anderson. Lazarus was the son of James Anderson, Jr. and was born in Buncombe County in the year ca. 1810. The birth place of Lazarus was at the farm of his father that was situated on the Paint Fork of the Ivey River. Lazarus later moved to Cherokee county with his wife Nancy Maney Anderson and his family just prior to, or during the period of removal of the native Cherokee people in the year 1838. Lazarus established a homestead in the Shooting Creek section of Cherokee county and remained there with his family until his death. Lazrus's farm was located in present day Clay County.
Lazarus wife, Nancy Maney was a grand-daughter of Martin Maney. These early Cherokee County pioneers raised a large family in the Bethabera community of Shooting Creek. Numerous descendants of Lazarus and his wife Nancy remain in the area to the present time, which also includes the writer.
Lazarus Anderson died in 1875 and is buried in the Old Shooting Creek Baptist Cemetery in Clay County, Hayesville, North Carolina. Nancy Maney Anderson is buried in the Bethabera Baptist Church cemetery that is also located in Shooting Creek section of Clay County.
Martin Maney: 1752- 1830, County Wexford, Northern Ireland
Martin Maney was also an Irish immigrant who made his way to the American Colonies from County Antrim, Ireland. "In his native Ireland Martin was a farm manager on a large estate and according to record had just completed a successful spring planting on this Irish estate when an agent for Colonial plantation owners in the British colonies of North America recruited him and sixty other qualified farmers to travel to the English Colonies as indentured servant. Martin sailed from Dublin Ireland on the Brig "Fanny" which was a two-mast, square rigged ship that was sailed by Captain Richard Taylor. The ship reached Virginia in 1769 and Martin began his service to the Fielding Lewis enterprise". pp1
His passage to the colonies was paid by a wealthy Virginia planter, one Fielding Lewis. Lewis was the owner of a successful plantation which consisted of over 1,500 acres of prime farm land located near present day Fredricksburg, Virginia.
Mr. Lewis was then developing this vast Plantation holding into what was later to become known as Kenmore Manor of Virginia. Kenmore Manor is still in existence today and is operated as a National Historic site. Kenmore Manor is located in the town of Fredricksburg, Virginia and is situated on adjoining property to the home of Mary Washington. Mary was the mother of George Washington who was to become the first President of the United States and generally referred to as; "the father of our country".
On May 7, 1750 Mr. Fielding Lewis married Elizabeth "Betty" Washington, the only sister to George Washington. It is documented by Kenmore Manor Historical Society that many of the early American Patriot leaders gathered at the home of Fielding Lewis for "Council of War" meetings prior to the beginning of the American Revolutionary War. Included among the Patriots attending the meetings hosted by Mr. Lewis was George Washington.
As customs during the colonial period would dictate, indentured servants were expected to always keep themselves separate from the ruling gentry. However, Martin certainly could have at times been in reasonable contact with the Kenmore owners in his position as overseer of the Plantation. One would have to assume that during the several years of his indentured servitude at Kenmore Manor, he must have sensed the tension of the times and perhaps to some degree was able to see and observe many of the early Patriots and other founders of the emerging country as they gathered for councils of war at the home of Mr. Lewis.
After Martin had completed his period of indentured servitude at Kenmore Manor; "he enlisted in the 8th. Virginia of Foot that was commanded by Brig. General John Peter Gabriel Muhlenberg who was later known as "The Fighting Parson". His enlistment on December 4th 1775 found him serving with 278 other men that were formerly from the Shennandoah Valley of Virginia. The 8th Virginia Regiment was made part of the Continental Army by an act of Congress on May 27, 1776." pp9. National Archives and other historical records from Blount county Tennessee Judicial Court show Martin describing his military service in the American Revolution. His unit participated in the battles of White Plains, New York on October 28th, 1776, the Battle of Germantown, Pennsylvania on October 4th 1777 and finally engaged in the Battle of Monmouth, New Jersey on June 28th, 1778. Martin was soon thereafter discharged from his first tour of Revolutionary service at Valley Forge, Pennsylvania by General Muhlenburg.
At the time of his discharge from his first tour of service Martin, as well as many other men were informed that the Colony of North Carolina was offering enlistment bonuses for veterans coming to serve in their militia units. Martin met with a Colonial enlistment officer at Valley Forge, Pennsylvania and signed for this bonus to serve for a short tour of duty in the, "over mountain territory" of North Carolina. This area is located in the present state of Tennessee and more specifically is situated in Washington and Unicoi counties. He was assigned to the Campbell Garrison that was located on Big Limestone Creek in present day Washington county Tennessee.
During this time as the attempt was made to create the new state of Franklin, General John Sevier was chosen to lead the effort toward statehood. "When General Sevier was threatened by death from the Loyalists and Tory supporters, Martin along with two other men, David Hickey and Isaac Davis were chosen as personal bodyguards for General Sevier." pp21. Martin also served as a forward scout for the Campbell Station and was engaged in numerous skirmishes with the Cherokee tribe as well as loyalist and Tory supporters.
"In 1779 Martin reported his personal property in Washington County, North Carolina. The records indicate that at the time Martin was a single man who owned one horse and six pounds sterling with a taxable value of thirty-six pounds sterling". pp23.
When the town of Jonesborough was in the process of being established, the town was surveyed into lots and a land lottery was put in place allowing individuals to participate in the drawing for town lots. Due to his veteran status in the War of the Revolution as well as a member of the North Carolina Militia, Martin was able to purchase four lots within the new town. Historical maps on file in the Washington county courthouse show that Martin won lots; 36,53, 62 and 71.
In September 1781 Martin married Keziah Vann, the daughter of John and Agnes Weatherford Vann. In 1770 British colonial officials hired John Vann on the death of his predecessor John Watts as the official Cherokee interpreter. At the time of their marriage Martin and Keziah were living near Big Limestone Creek in Washington County near the present town of Jonesborough, Tennessee. Martin was still enlisted in the service for North Carolina at the time of their marriage and while he was away on duty with the North Carolina Militia, Keziah was found living with her mother and father.
Land transfer records show that Martin and Keziah had moved to the Big Ivy Creek section of Old Buncombe county where on July 17, 1797 he was in possession of a land grant for 100 acres. This land grant was payment for his service in the War of The Revolution. During their years of living as one of the first pioneer families in the Buncombe county area their family grew to include several children. One of the granddaughters of Martin and Keziah was Nancy Maney. During this same time period James Anderson Srs. Family was already living in the same general area. One of the grandsons of James Anderson Sr. was Lazarus Anderson.
Lazarus Anderson and Nancy Maney
Nancy Maney and Lazarus Anderson were married ca1840 and started raising their family there in Buncombe County. This union of Lazarus Anderson and Nancy Maney merged the families of the two American Patriots, Martin Maney and James Anderson Sr.. It presently is unknown if these two Irishmen were acquainted in their native homeland. The parallel lives of these two men immigrating from Ireland to the English colonies, each man becoming soldiers in the War of Revolution, then migrating to Buncombe then Cherokee county North Carolina, and finally ending in uniting of the two families by blood somehow seems too unlikely to be true. It is however, true and is cherished by many to the present day. The descendants of these men who still reside in the general areas number in the hundreds.
Nancy Maney Anderson was the last surviving member of the old generation and was considered the matriarch of the family. Nancy was affectionately referred to by the name "Granny Tote" by all who knew her. This name was given to her since due to her advanced age of 100 plus years she was 'toted' from place-to-place by members of her family. Boyd Anderson, a great-grandson of Nancy's who was born in 1902 once told me that he remembered seeing her when he was a child and remembered her smoking a corn-cob pipe, and that he remembered her as being bedridden. Nancy died April 6, 1921 and was buried in the Bethabera Baptist Church Cemetery. Her husband Lazarus had died in 1875 and was buried in the Old Shooting Creek Baptist Church Cemetery
By present count there are four known descendents of Martin Maney, and James Anderson, Sr. who are members of the Sons of The American Revolution. Membership in the SAR requires proof of direct bloodline from a soldier of the Revolution. These members are;  Mr. Milus Bruce Maney, John Denton, Ray W. Anderson and David C. Anderson. Each of these individuals are members of the Button Gwinnette Chapter, Georgia Society, Sons of the American Revolution.
There are presently members of the tenth generation of these two Patriots living in the Clay county area alone. This represents 251 years of occupying or having citizenship on the American continent with 170 years presence in present day Cherokee and Clay counties.
Acknowledgements; Martin Maney; 1752-1830, A Revolutionary War Soldier and Related Families; Milus Bruce Maney, c1999; pp; 1,9,21,23., et al.; State Archives of Tennessee
—————————-
A few thoughts that come to mind about the fascinating lives of James Anderson, Sr.  and Martin Maney.
Like David I wonder if the men knew each other before leaving their homeland, if they met while fighting for the new country they had become part of or while finding their way to Western NC.
David pointed out the unlikelihood of the two Patriots living such parallel lives and then to top that their children ending up married to each other. His words made me think of the time Pap told me he thought mine and my brother's lives had been so blessed because of prayers our Papaw prayed for us. When Pap told me that I questioned him saying "But Papaw's been dead for years." Pap said "Well you don't think his prayers died with him do you? Prayers keep on going and if there was one thing Papaw prayed for it was his grandchildren." So maybe in the way of Papaw Wade, Maney and Anderson's prayers continue through the descendants which still populate this area supporting many blessings along the way.
Thinking on those ten generations of Maneys and Andersons still living in the same area, one can see why our rich Appalachian culture has survived even till today.
I hope you enjoyed David's guest-post as much as I did.
Happy Independence day to you and yours!
Tipper
This post was originally published here on the Blind Pig and The Acorn in 2010