Today's guest post was written by Ed Karshner.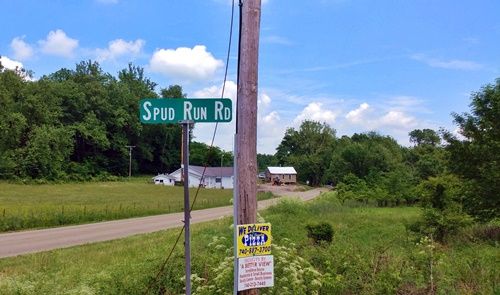 "In The Fullness of Time" written by Ed Karshner
Tar Hollow State Park, in Southeast Ohio, has been the site of the Fisher Family Reunion for my entire life. The Fishers are my Mom's people. They go back to the original settlers of Western Virginia, who took advantage of land grants doled out by President George Washington. With the Civil War, Putnam County became part of West Virginia, and the Fishers remained there until the early 1920s. Then, my great-grandparents, Eli and Amy Fisher, moved to Ross County, Ohio with plans to go from being school teachers to farmers.
In those days, Tar Hollow State Park wasn't a park. It wasn't even a State Forest. Instead, it was a hard, hilly land, settled by harder pioneers fully intending to live off the land and be left alone. My great-grandparents bought, sight unseen, eighty acres at the far end of a hollow on Spud Run Road and found the land too rugged to farm. This boondoggle would forever live in my Great-grandma's warning to "never buy a pig in a poke."
Their new neighbors had long since resorted to trapping for furs, hunting for meat, and working the Pitch Pine to produce liniments and machine lubricants for cash to make up for the shortfall created by the landscape. My great-grandfather taught himself to "animal doctor" in order to make ends meet. Eventually, Eli, Amy, and their growing family (including my grandfather), started share cropping a farm down the road that was owned by a businessman who lived in Chillicothe.
Then came the Great Depression. It was an unholy alignment of natural and social forces. The gardens were too small and the ground too stubborn to support the people who relied on it. The century or so of over hunting and trapping had decimated the wildlife in the area. With the animals gone, so were the furs that were worth money that could be spent on flour, salt, and canned goods. For the first time, these people found themselves in need of money. Money that was as scarce as the natural resources had become; however, the government was ready to oblige.
The Works Progress Administration put "unskilled men" to work transforming 16, 000 acres of the Appalachian Plateau from a patchwork of native forests and small homesteads into a state forest and park. Those "unskilled men" were my very skilled great-grandfather, grandfather, and my great uncles. This public work was taking place on land acquired through the Resettlement Administration whose mission was to buy up, what the November 23, 1936 Daily Herald out of Circleville, Ohio called, "non-agricultural" farms. This version of the RA was called the "Ross-Hocking Land Utilization Program." Uncle Joe recalls that the goal was to get people out of the hills and hollows and closer to the highways; therefore, closer to transportation and cash work in the city.
The Fishers, however, were lucky in that their property ran right up against, what my Great-grandma Amy called, "The Resettlement." They didn't need to be "resettled" because, as Uncle Joe says, "From Spud Run, where we lived, you could walk across the hill…through the woods and that is where my Dad and some other people went over there to make a little bit of money to build them shelter houses, and toilets." My family's homeplace was further protected because, although they still owned the "non-productive" eighty acres, they were still share cropping the farm further down the road. Proximity to State work and cash work on another man's farm insulated them, for now.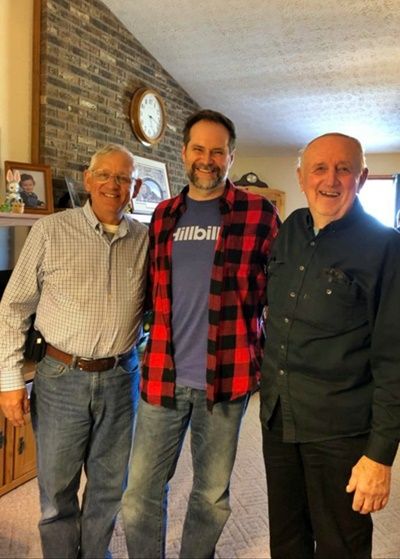 Uncle Wes, Ed, Great Uncle Joe 2019
But the government did come calling. On our property was the highest point on Spud Run Road. My family still calls it Orchard Hill even though the apple and peach trees have long since gone. Uncle Joe recalls, "Tar Hollow wanted that Orchard Hill, because the height of it, to build a fire tower." The government men came with a pocket full of cash and a bottle of liquor. They got Eli drunk and convinced him to sell the homeplace so they could fold it into the new State Park. But, Amy wouldn't sign the papers, the land being in both their names. That land was their only place to live. If the man in town sold the farm, kicked them off, they would be without a place. So, Amy chose security over money. She decided with a pragmatic fatalism that didn't just plan for a rainy day but put a roof on it. Uncle Joe says "Mom said until the day she died that that was the only time she defied what Dad wanted to do."
Even after my grandfather bought the farm they sharecropped, those original eighty acres stayed in the family. Great Uncle Joe holds it now. Every year, he goes out to the homeplace with my Uncle Wes to clean out the springs. "It's out there. Just in case we ever need it," Uncle Joe says. No land is ever worthless. There is nothing "marginal" about security… a place to live, to call your own. My grandma always said that land is the most valuable thing you can have. Land is "what you have and what someone else will always want. Hold it," she'd say.
The land is still there; however, the farm house, the barns, and the corncribs that my great-grandparents built have long since gone back to the earth. Even the farm on Spud Run where I grew up, the one my great-grandparents worked and my grandfather bought after World War II, is devoid of the original homes…now vacant waiting for pre-fab cabins to house visiting ATV enthusiasts.
While Tar Hollow was being built, an Austrian photographer, Theodor Jung, took pictures of the original inhabitants of the area. Always in the back ground of the portraits of these "hillicans" are their log homes. They are built from the same square, hand-hewn logs the shelter houses in Tar Hollow are built from. The materials, the construction style, it is all the same. Even though nothing of the homeplace exists, in Tar Hollow I can touch the rough-hewn logs that my relatives cut, shaped, and put up, I can get a sense of what they built, what their lives were like. This is real history. Physical memory palaces that recall who we were, who we are, and who we should be.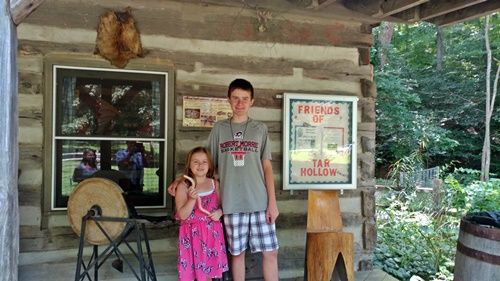 James and Alex (Ed's children) in Tar Hollow 2016
That's why, every year, at the end of July, we go back to that place that tried to swallow us. To that place that couldn't assimilate us. And in this act of reunion, of remembering, we live something that I have come to see as essentially Appalachian. In his book Signs, Cures, and Witchery, Gerald Milnes writes about a German charm he saw written over a door in Randolph County, West Virginia: Zeit und Raum is Alles, "Time and Space is Everything." What connects everything, within this spiritually important awareness, is story. When we can link a story to a moment, a place, an object—something present and immediate, the substance of the story comes alive again in that moment. We remember that we live not in a fixed linear time with a clear cut beginning, middle and end; rather, we exist in that fullness of time which slowly unfolds until we realize that stories don't end with the last sentence. They continue in the lives of the people who live them. Like autumn leaves that nourish a ground they will never see flourish, they are, nevertheless, present in the green of spring; each story we tell recalls another story and, if we're lucky, a story from another. The meaning of "everything" is found in the lessons stories teach us about the folding of oldness into newness. Tar Hollow reminds me that it is our responsibility to re-tell our stories. And as long as we do, we will be here and so will those who came before us.
—-
I hope you enjoyed Ed's piece as much as I did. I especially enjoyed his thoughts on our stories, and therefore our lives, continuing on in the hearts and minds of those who come after us.
Tipper
Subscribe for FREE and get a daily dose of Appalachia in your inbox