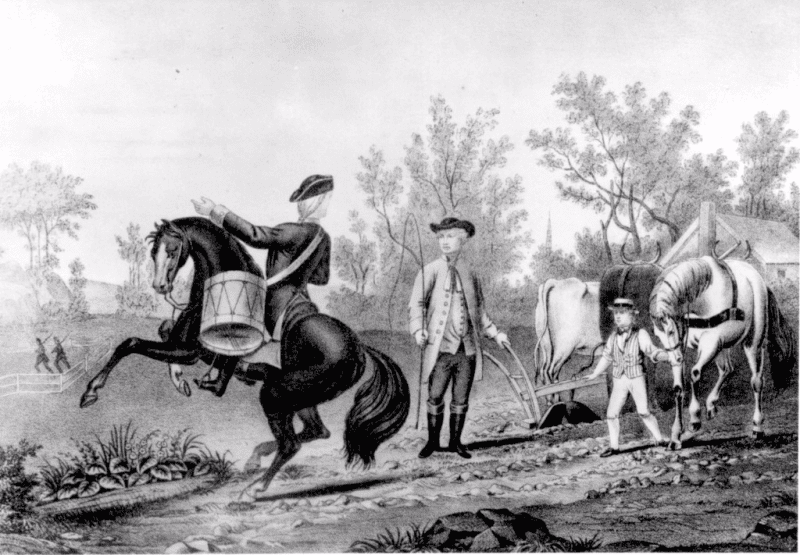 (Photo by Field Dreams)
William England and son Richard England Revolutionary War Patriots by Ethelene Dyer Jones
Enlistment in the militia or continental army was not the only contribution to America's freedom. Some patriots were known for their material assistance. Such were William England and his son, Daniel England.
William England migrated to America in 1733 and first settled in Pennsylvania where he married, first, Elizabeth Wilcox. They had one son, William, Jr. Elizabeth died, and William married, second, Mary Watson. The Englands moved to Maryland where Mary gave birth to Daniel, born in 1752. Their next move was to Chatham County, NC, where three more sons, Joseph, John and Samuel, were born.
It was in North Carolina that William England went into partnership with his brother-in-law, John Wilcox, and built an iron foundry. The iron furnace cast cannons and cannon balls used in the war effort during the Revolution. Daniel England worked with his father in the foundry on Hunting Creek near Morganton, NC. He applied for and received deferment from induction into the military because of his work at the foundry.
Daniel died in 1818 in Burke County, NC. He was recognized by Daughters and Sons of the American Revolution for his material assistance in the Revolutionary War effort.
Daniel England married Margaret Guinn (1758-NC – 1847, GA). She received land in the lottery and moved to Habersham County, Georgia with some of her children, namely Richard (1770-1835), Nancy, Rachel and Deborah. Richard married Patsy Montgomery. Richard owned land on which gold was found in Habersham (later White) County. Richard was buried in the England Family Cemetery near the Chattahoochee River in present-day Helen. Margaret came to Choestoe in Union County when the Englands settled here. Hers reportedly was the first grave in the Old Choestoe Cemetery.
To continue Revolutionary War connections, Richard England's son, Jonathan, known as "Athan" married Nancy Ingram, granddaughter of John Ingraham, Revolutionary soldier. His son Daniel married Harriet E. Hunter. His daughter, Margaret Elizabeth, married William Jonathan Hunter. And the family kinship lines go on, even to this present generation and beyond.
——————————
As I read about Ethelene's ancestors-I wondered if William England's moves to the south were an effort to find more freedom farther away from the reach of the British. Perhaps his first move was to leave behind the sadness of loosing his first wife and make a fresh start in Maryland. Or maybe his brother-n-law John Wilcox convinced him that North Carolina was a fine place to settle.
I'm always curious about movements folks make from one area to another. It is interesting to note-many of the patriots in Ethelene's family line ended up in North Georgia due to land grants given to them for their contribution to the patriot side of the Revolutionary War.
Life is full of symbolism-especially for a sentimental history buff like me. I just can't help thinking about the relationship between the patriots from the Dyer-Souther-Collins line settling in the North Georgia Mountains and their descendant Ethelene Dyer Jones.
A little girl born just a few mountains away from me who grew up to be not only a wife, mother, writer, teacher, etc., -but also a preserver of my Appalachian heritage. Pretty neat uh?
Tipper