Today's post was written by Paul.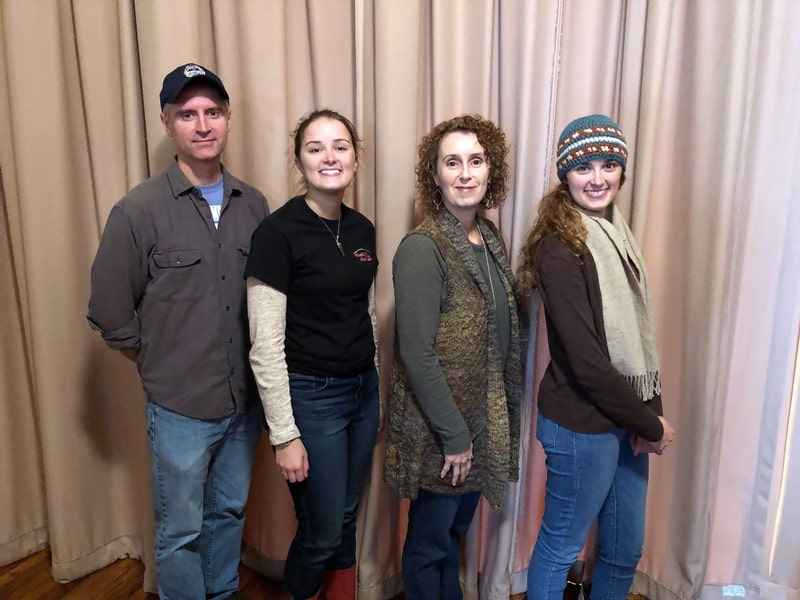 Paul, Chitter, Tipper, Chatter – Fall 2019 after a performance at Stecoah Valley Center
A few months ago, Katie mentioned to me that she really likes the song "Gentle on My Mind," that she really admires John Hartford as a fiddler (writer of the song) and that she would like to learn the song. I filed that thought away.
When I was a kid, my older brother, Steve, had a couple of Glen Campbell cassette tapes that he played often. I absolutely loved all the songs on the tapes, like "Galveston," "Wichita Lineman," "By the Time I get to Phoenix," and "Gentle on My Mind."
With "Gentle on My Mind" I was always made to imagine the protagonist wandering freely through the countryside, and I was drawn in by Campbell's rolling guitar work at the outset of the song.
Once I learned to play a guitar myself, Pap told me that he believed Campbell had tuned his guitar in an open G, like a banjo for the song. I think Pap was right, or he was at least on the right track.
There's definitely some kind of open tuning going on there, and there are some runs that I would describe as banjo licks. It may have been that Campbell was recreating (in his own way) the banjo sound that Hartford himself put into his original recording (Hartford was a great banjo player as well).
According to Wikipedia, Campbell loved Hartford's folk version from the moment he heard it on the radio and knew immediately that he wanted to record it. There's an interesting story about how he went about convincing his producer in the Wikipedia article that I read, but I won't go into that here.
Chitter and Chatter typically sing songs around four frets lower than where Pap or I would sing them, so I speculated that the key of C would be about right and a good open chord for them to do the song.
My musical heros, the Louvin Brothers and the Delmore Brothers both used a tenor guitar.
I had only seen one in person ever, which hung in Wayde Powell, II's old recording studio in Young Harris, GA. I took it down and plunked on it once, but it was missing some strings, and since I was only 18 at the time and still learning the "regular" six-string guitar, I had no idea how to play it, but I had always wanted to try one. Musician's Friend had a Black Friday sale this year, so I thought it would be a good time to pick one up and see if I could get any sort of sounds out of it ($280). The fact that they're tuned in an open C (most of the time) was a stroke of luck in terms of pairing it with the Pressley Girls singing "Gentle on My Mind," and it produced a somewhat "open" sound similar to Campbell's guitar tuning.
The way we do the song is a simplified version of how it goes. The song actually goes back and forth between the minor chord and the low major chord as the verses finish up, but we just go straight to the low chord from the minor chord and stay there until it returns to C. It doesn't make much difference in the melody, but purists may notice it.
When we posted the song, I was surprised that several people (very politely) commented that they have never cared for the song. Though I was surprised, I have a theory on why that could be the case. The notes in the melody of the song don't change very much over about 18 bars in terms of rising or falling. Pap sometimes didn't care for Paul Simon's "Homeward Bound" for this same reason. However, this never bothered me with either of these songs. Some folks also might not like "Gentle on My Mind" because there's not a clearly defined verse/chorus pattern. Whatever the reason, the vast majority of listeners who've heard the song like it a lot.
BMI (one of the two major organizations that tracks song royalties) lists the song as #16 on the list of 100 greatest songs of all time, and it's the 4th most played song on the radio of all time! The song helped launch and secure Campbell's career transition from sought after studio musician to successful solo artist, and he used it as the theme song for his TV show for several years (The Glen Campbell Goodtime Hour).
The song won four Grammy Awards in 1968: best country and western song, best folk performance (Hartford), best country and western male solo vocal performance, and best country and western recording (Campbell).
It most likely supported Hartford financially for the rest of his life, given the many covers of the song that made it to the top ten in the US and UK. The song also helped another set of brothers who are among the best singers to ever sing a note: the Glaser Brothers. The Glasers were among the first to have faith in the song. They agreed to publish it for Hartford under their publishing company. The publishing rights kept them afloat financially and kept them from leaving Nashville and going back to their home in Nebraska.
I've rambled on, but here's one last thing that I find interesting. Hartford was born on December 30th, 1936, just 7 months earlier than Pap was born. We just missed Hartford's birthday with this upload. Campbell was born just 7 months earlier than Hartford in April of '36. For a long time, I've had a "theory" that there was something special going on in 1936/37 because so many one-of-a-kind artists were born then, like Merle Haggard, Jim Glasser, Jack Nicholson, and Morgan Freeman, just to name a few. And of course, I count Pap among that list of special talents, not just for his music but also for his gifted ability with anything and everything that he ever did or tried. Wayde Powell, II believes that the amazing nature of so many artists/individuals born around this time has less to do with the specific year they were born and perhaps more to do with the way this generation was shaped by WWII, which of course was underway during their formative childhood years. Either way, I find it interesting, and can't believe that it's just a coincidence. Thanks for reading all of this! We hope you enjoyed our take on Hartford's famous song. We plan to learn it a lot better and to start working it into our live sets, even if it means that I have to tote around a baby guitar to our shows. 🙂    
I hope you enjoyed Paul's great guest post and the video. I've always liked the song and I especially like the video of us doing it. I don't like it because we do the song justice, but because it shows us being who we are—talking and pickin and grinning on any given Sunday afternoon like we've done for so many years.
Tipper
Subscribe for FREE and get a daily dose of Appalachia in your inbox