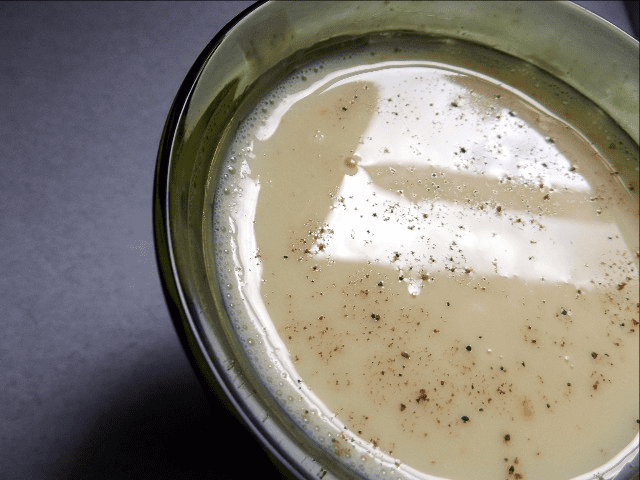 A year or so ago, I was introduced to Mark F. Sohn's Appalachian Cookbooks. As I flipped through the pages, the recipes seemed authentic and I loved the historical content he added to each recipe or group of recipes.
More recently, 2 of Sohn's cookbooks made their way into my personal collection (THANK YOU Miss Cindy). I haven't had time to cook anything major from the books, however a recipe included in both caught my eye-its called Float.
I immediately noticed the recipe was very similar to the custard sauce I learned to make at JCCFS a few years ago. But what I found fascinating about Sohn's recipe is-he says the end result can be served as a drink as well as a sauce. In Mark F. Sohn's words:
Boiled custard is a cooked sauce or drink. Mountaineers call it float, and when cooked and cooled, the sauce is thick, rich, and sweet. The French call it English custard or creme anglaise, and they use it as a sauce as well as the base for floating islands.
I've never heard of float before, other than the way Granny used to pour coke over her icecream and call it a float. Since we now have plenty of eggs (I LOVE MY CHICKENS), Chatter and I decided we'd try making Sohn's float recipe.
You need:
1 quart milk
4 large eggs
1 cup sugar
2 teaspoons vanilla
First-put the milk in a large sauce pot and allow it to warm on medium heat.
While the milk is heating-mix the eggs, sugar, and vanilla in a bowl.
Add part of the hot milk to the egg mixture and stir well-then add all the sugar/milk mixture to the rest of the milk in the sauce pot. Continue to stir and heat mixture until it reaches 175 F on a candy thermometer or until the mixture thickens slightly (it won't get very thick). If you end up with any scrambled egg pieces in the float-you can strain them out.
Pour the float in a jar and let chill in the frig before serving. You can sprinkle a little nutmeg on top of the float once you serve it-or not-its good either way.
YUM! Wow it is good, I mean milkshake good. Easy to whip up and easy to dispose of in a hurry. But what I'm really interested in is finding out if you've ever heard of a drink called Float or ever had it before?
Tipper