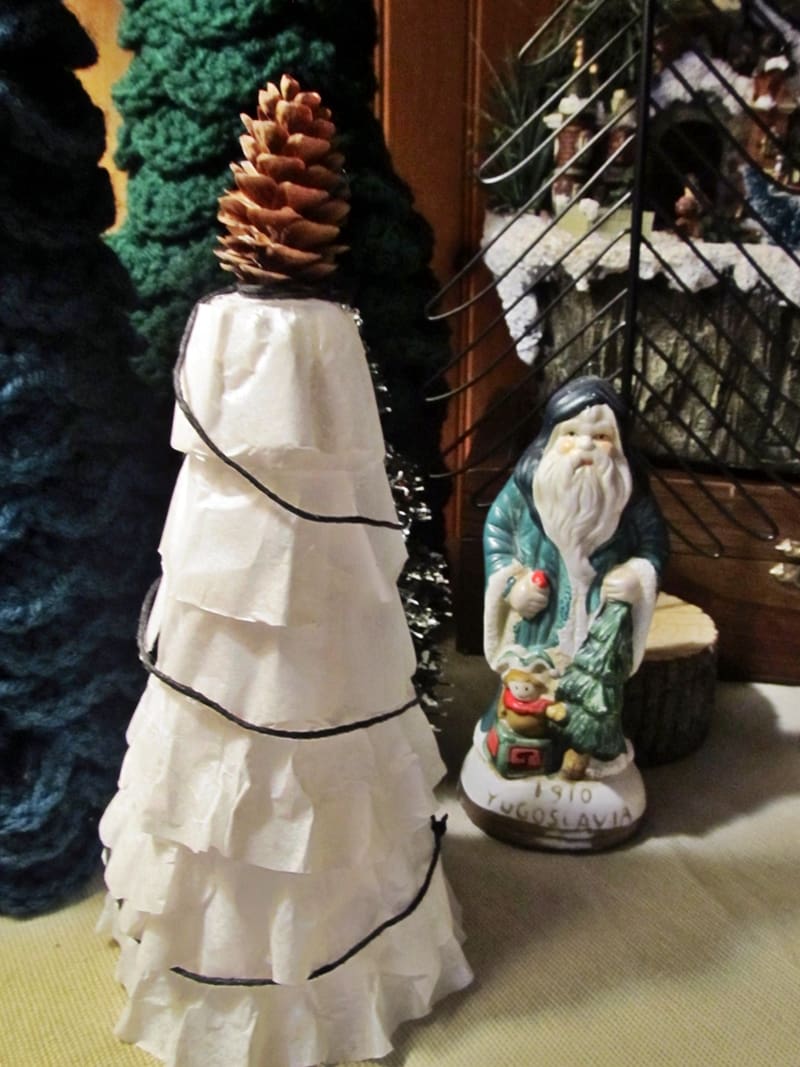 I believe the girls learned to make coffee filter Christmas trees in elementary school.
They are super easy to make and the ones we made this year turned out really good.
To make a coffee filter Christmas tree you need:
coffee filters
scissors
glue, a hot glue gun works best
a Styrofoam cone or a paper cone (there are tons of tutorials online that show you how to make a cone shape from heavy paper-just give it a google)
decorations for the tree (optional-they look pretty nice without anything on them)
Cut the coffee filter into strips. You can make your strips wide or narrow in width depending on what look you prefer. Be sure to cut around the circle shape of the filter. Once you've cut your strips you should be left with a flat circle of filter.
Starting at the bottom of the tree begin gluing the strips around the base of the cone. Depending on the size of your cone, you may need to use more than one filter to make it all the way around.
Continue gluing the strips of filter all the way up the cone overlapping the previous one until you reach the top. Sort of like adding ruffles onto a skirt.
Remember the circle piece of filter left from cutting the strips? Use a portion of that to cover the top of your cone. Cones with a very sharp point won't need to be covered at all.
I found a pinecone from the yard for a topper on one tree. On another I used an old sprig of fake holly.
You can add string or ribbon to give the tree a roped look.
If you'd like to color the tree use watercolor paints or make a watercolor of sorts by mixing water and food coloring. Gently paint the color on. Alternately, you can color the filters before you ever cut them.
Mix a little coffee with water to paint on the filter edges for an antique look.
Coffee filter Christmas trees are a fun, easy, and inexpensive craft to make with the end product looking like something you'd find in a fancy Christmas store.
Tipper
Subscribe for FREE and get a daily dose of Appalachia in your inbox