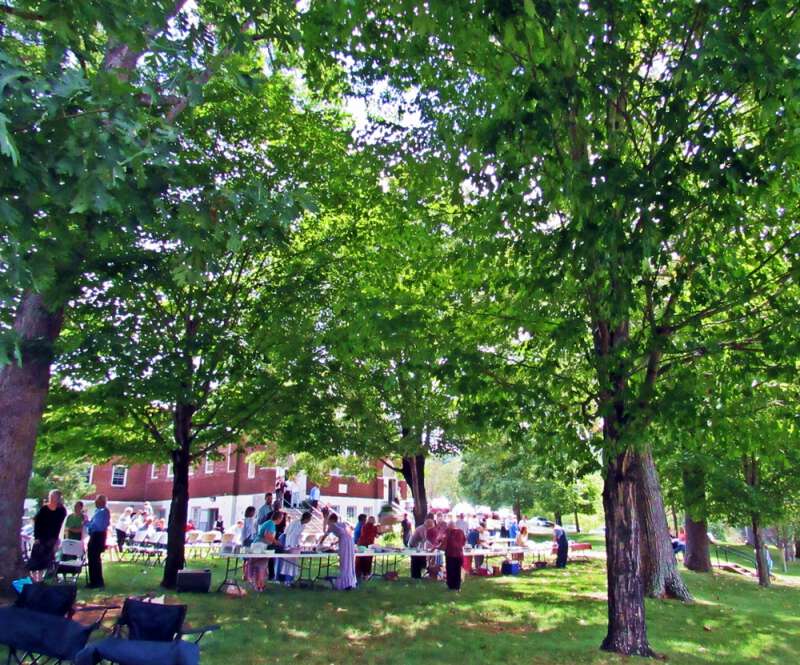 dinner on the ground(s) noun phrase An outdoor meal in connection with a church meeting or revival. In the 1930s churches and families frequently had services followed by, or interspersed with, picnic dinners around a tablecloth spread on the ground. Later picnic tables were usu used and the event was held on decoration day. Same as basket dinner.
1977 Shields Cades Cove 44 The audience traveled from church to church, pausing at noon for "dinner-on-the-grounds." 1978 Peterson/Phillips New Harp of Columbia xxv It is almost as though the morning sing points the way to dinner on the ground. There is nearly audible relief when, as noonday approaches, a break is suggested so the tables can be unfolded and loaded with the covered dishes. Dinner is outdoors in good weather, up the center aisle in bad. It is a time not only for nourishment but for fellowship, for renewing acquaintance with those not seen for as long as a year, or meeting visitors and singers who have come to the sing from places far from Wear's Valley. 1982 De Armond So High 85 There, we met other families for church services, box suppers, pie suppers, all day singing and dinner on the ground. 1996 Parton Mt Memories 172 Church singings, with "dinner on the ground," are a tradition that has survived the test of time. Each family brings dishes of food to the church, and after the worship service, tables are put up outside. Sometimes the tables are nothing more than rough planks on saw horses, covered with tablecloths. The women arrange the food on the table, with meat dishes placed together, the vegetables, desserts, and so on. If you've never attended a Sevier County dinner on the ground, you've missed out on some of the greatest food in the world.
Dictionary of Smoky Mountain English
—————
The tradition of dinner on the grounds is still going strong in the mountains of western North Carolina. Last year marked the 126th year of dinner on the grounds during the annual Old Folks Day at Morning Star United Methodist Church in Haywood County.
Tipper