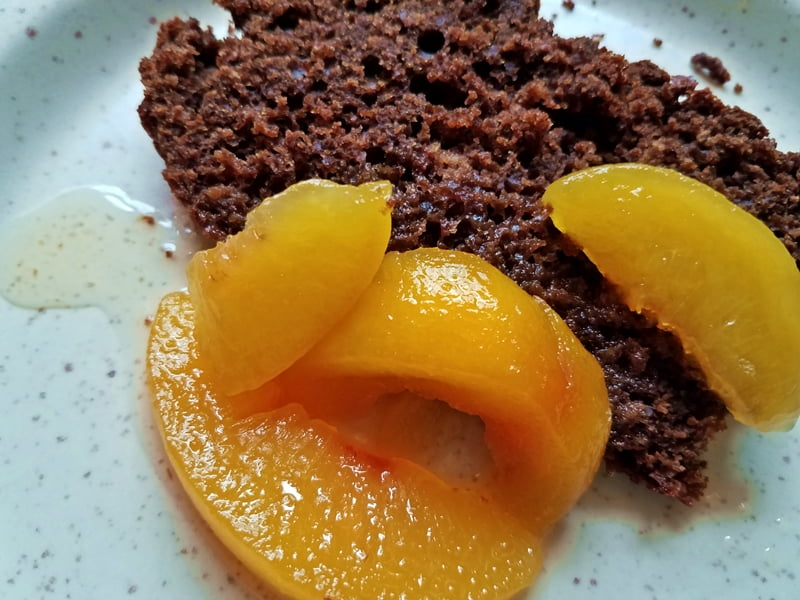 Back last August Melissa Vaughn and I were emailing about Chocolate Gravy and she wrote:
"When I found the gravy recipe I was actually looking to see if you had written anything about Cocoa Bread. My dad remembers my grandma making cocoa bread when he was growing up. She would make it as a snack for when the kids got home from school. And she always baked it in a cast iron skillet. My dad has commented on that bread many times, but we have yet to find a recipe similar to what he remembers. Would you happen to know of a recipe for Cocoa Bread? Just curious… thanks!"
As soon as I read Melissa's email I thought of a recipe for Cocoa Bread with Peaches that I cut out of a "Southern Living" magazine years ago. I pasted it in my recipe notebook but never got around to actually trying it. I kept the recipe because I love anything chocolate and Pap always liked peaches with his cake.
After reading Melissa's email I finally made the recipe…it was worth the wait.
Cocoa Bread with Peaches
1 cup boiling water
1/2 cup butter, melted
1/2 cup sorghum syrup
1/2 cup sugar
2 eggs beaten
2 cups self rising flour
1/2 teaspoon baking soda
1/4 cup cocoa
1 teaspoon cinnamon
Stir together water, butter, sorghum, and sugar. Let cool slightly. Stir in eggs.
Sift remaining ingredients together; add to water mixture and stir till smooth.
Bake in a greased and floured (or use parchment paper) in a 8 inch square baking pan.
Bake at 350 degrees for 30 minutes or till done.
Stewed Peaches
3 cups sliced peaches (or one 16 oz. bag of frozen peaches)
1/2 cup sugar
1/4 cup water
Add all ingredients to saucepot and simmer for 10 minutes.
Serve cake sliced with peaches.
I'm not sure if the cake is similar to the one Melissa's father remembers, but it sure is good! Next time I make it I'm going to try baking it in a cast iron pan like her father remembered.
Tipper
Subscribe for FREE and get a daily dose of Appalachia in your inbox