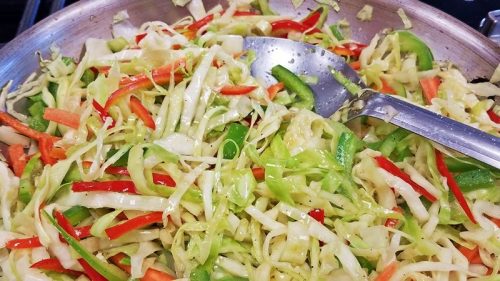 We had cabbage left from our kraut making project in our recent Mountain Flavors Class and Carolyn offered to show us how she made fried cabbage with a twist.
Carolyn's Fried Cabbage
cabbage
onions
peppers
carrots
olive oil
sesame oil
The best thing about Carolyn's recipe, besides the taste, is the flexibility. You can slice or dice the veggies and you can mix and match the cabbage with whatever veggies you have on hand.
Once you have your vegetables prepared, cook them in olive oil until they're at your desired tenderness and then stir in some sesame oil to your tasting as a finishing touch.
Carolyn's fried cabbage is tasty and quick, exactly the kind of recipe I like.
Tipper
Subscribe for FREE and get a daily dose of Appalachia in your inbox