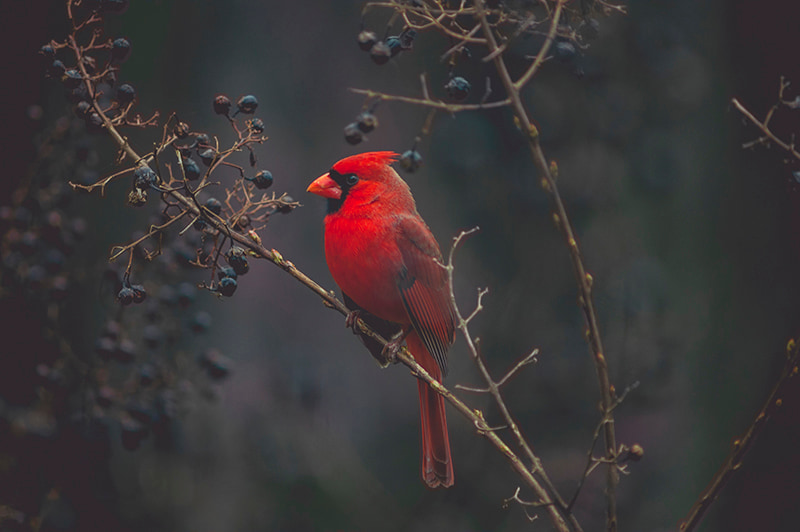 From the website State Symbols USA:
"North Carolina designated the northern cardinal (Cardinalis cardinalis) as official state bird in 1943. One of America's favorite backyard birds, cardinals are distinctive in appearance and song – known for their "cheer cheer cheer," "whit-chew whit-chew" and "purty purty purty" whistles.
Male cardinals are a brilliant scarlet red, females a buff brown with reddish wings; both have a jet-black mask, pronounced crest, and heavy bill. The cardinal sings nearly year-round, and the male aggressively defends his 4-acre territory (male cardinals have been seen attacking small red objects mistaken as other males).
Northern cardinals breed 2-3 times each season. The female builds the nest and tends the hatchlings for about 10 days while the male brings food. The male then takes over the care of this first brood while the female moves on to a new nest and lays a second clutch of eggs.
The cardinal is the state bird of 7 states: Illinois, Indiana, Kentucky, North Carolina, Ohio, Virginia, and West Virginia."
—-
I had no idea the cardinal was the state bird of seven states! It's obvious there's a lot of love for the bird.
Male cardinals stand out in the environment because of their color. When I see one I always think of how cheery they look. Probably doesn't hurt that red is one of my favorite colors.
A good while back Blind Pig reader Betty "Jo" Eason Benedict left a comment about a cardinal being a messenger sent from beyond. It was on a post I wrote about Pap leaving me a sign hanging in a tree at Granny's. You can see the post here.
Betty "Jo" wondered if cardinals being a sign of a messenger was a common piece of folklore in Appalachia. I had never heard of it, so I wasn't much help. But as usual another Blind Pig reader came to the rescue.
B. Ruth: "Yes, "When Cardinals appear, angels are near!" Heard this little saying for years. When my son was in comfort care/palliative care his last days in the hospital. He had many Cardinals frequent the windows about his head. The nurses told us they would see them but never on the shrub by the windows or so many. My son told me, "Mom, I will come visit you after I'm gone to heaven…maybe I'll be like a Cardinal. After it was all over and a few weeks had passed, a Cardinal chirped his attention getting sound so loud that it shook me to my toes…right at the feeder on the kitchen window sill…I went over, tears falling, and just asked if it was him…the cardinal cocked his head and looked me right in the eye chirped another couple of times before he flew to the tree limb…still looking at me…I had seen many Cardinals at my feeders, but never experienced anything like this in my life…He visits constantly…brings more with him and I still think positively that it was him or his guardian angel letting me know he was home and doing fine…"
Tipper
Subscribe for FREE and get a daily dose of Appalachia in your inbox