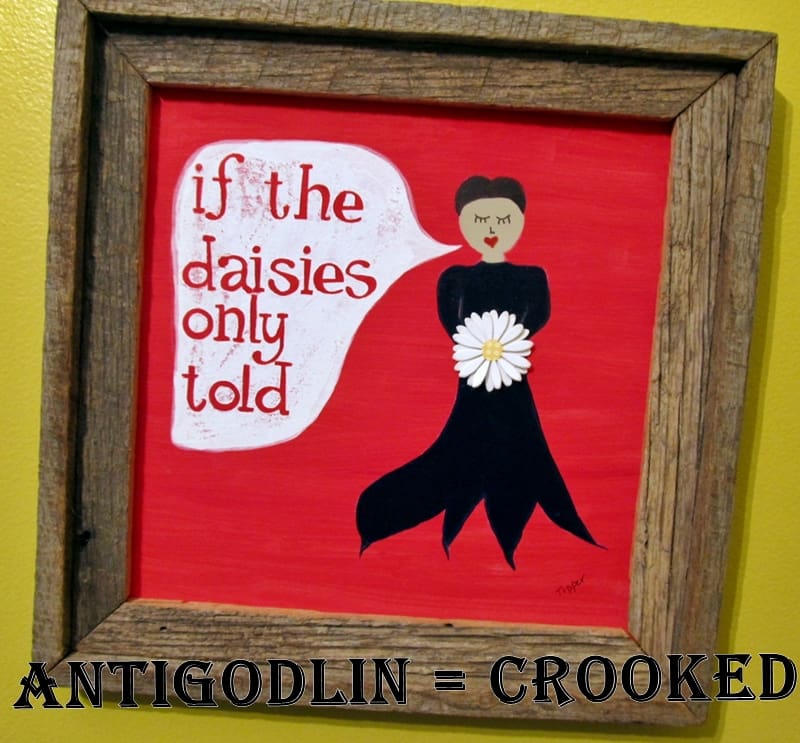 A few posts back Blind Pig reader Terry Stites left this comment:
"Can anyone help me with a word? Antigodlin,means lopsided or outta kilter. I'd like to know it's origin. Any help is appreciated."
I've heard antigodlin my whole life, but like Terry I don't know where it comes from. I knew the word would be in my Dictionary of Smoky Mountain English so I went to see what it had to say. Here's the entry:
anti-godling, anti-gogling, anti-sidling, anti-sigodling adjective, adverb Of an object: crooked, out of line, askew, diagonal. Cf catawampus, cater-corner, sig-godling.
1917 Kephart Word-list 417 antigodlin'. 1944 Combs Word-list Sthn High 17 antigodlin, antigoglin, antisigodlin = out of plumb or square, slanting 1952 Wilson Folk Speech NC 515 antigodlin = leaning, not parallel. 1955 Parris Roaming Mts 22 Slaunchways means slanting, and si-godlin or anti-sigodling is out of plumb or out of square. 1960 Cooper Jularker Bussed He just sets with his mouth pooched out (stuck out) since he discivered (discovered) he built the walls antigodlin (not plum). 1972-73 Pederson et al. LAGS anti-godlin (Cocke Co TN, Sevier Co TN). 1992-95 Montogmery Coll. anti-godlin (Jones, Norris, Oliver); anti-gogling (Brown, Bush, Hooper, Jones, Norris, Oliver, Shields); anti-sidling (Norris); anti-sigodling (Brown, Cardwell, Hooper, Ledford, Oliver.)
[DARE anti-gogling <anti– "against, counter" + gogglin present-part/adj < goggle "to shake, tremble" (EDD, SND); anti-gogling South, South Midland, West]
Dictionary of Smoky Mountain English
—-
I like the reference to slaunchways in the dictionary entry. It reminds me of Pap. I don't recall ever hearing anyone else use the word. I also like the part about the man sitting with his lips pooched out. I'd sit with mine pooched out too if I built walls antigodlin 🙂
If you have any other information about the word antigodlin please leave a comment and share it.
Tipper
Subscribe for FREE and get a daily dose of Appalachia in your inbox