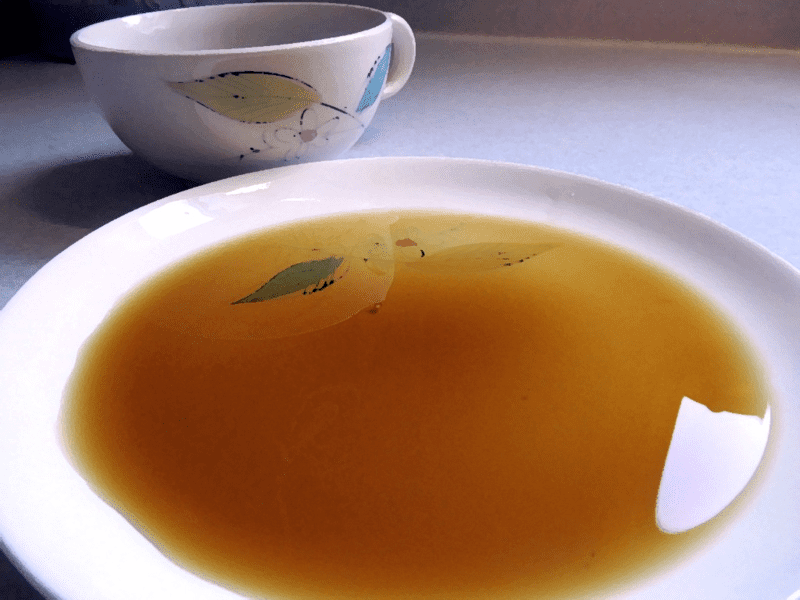 saucer noun, verb
B verb To pour (esp coffee) into a saucer to let it cool before drinking.
1981 Whitener Folk-ways 82 Mine's already been sassered and blowed. 1994-95 Montgomery Coll. (Ogle); He always sassers his coffee so it can be more comfortably drunk (Cardwell).
Dictionary of Smoky Mountain English
——————–
My post about chocolate gravy led us to eating bread soaked in coffee which has led us to the tradition of saucering and blowing your coffee to cool it for drinking.
I remember my Great Aunt Pearl sitting at Granny Gazzie's kitchen table 'saucer and blowing' her tea. And I've seen Granny saucer and blow her coffee over the years when it was too hot for her. I never seen Pap use a saucer to cool his coffee, although he would often steal a piece of ice from someone's drink to cool it.
B.Ruth had this to say about the technique for cooling coffee:
"Dad would sometimes dip his biscuit in his hot saucered coffee, maybe that helped cool it off somewhat. Mom just hated when he would saucer and blow his coffee and then slurp it from the saucer! Not that she was so refined, she said the only one left in her family that boiled coffee, saucer, blow and slurp was her aged grandmother before she passed! We finally got some of those green Fire King cups, so Momma's china cups and saucers went to the back of the cabinet! Oh the memories!"
——————–
PinnacleCreek remembered this:
"In those days coffee cups always came with a saucer, and I have seen them drink from the saucer. This was probably due to the coffee was actually boiling hot in those days. Even as a youngster nothing smelled quite as good as the aroma of coffee percolating on the stove."
——————–
Shirla said this:
"Dad always saucered and blowed his strong black coffee. It was brewed on top of a coal stove and got extremely hot."
——————–
ncmountainwoman remembered this:
"My grandpa took his coffee in a big white cup. His saucer was actually a small bowl. He poured the coffee from the cup into it and then sipped it piping hot."
——————–
Charles Fletcher said this:
"Always did this while growing up and especially for the the time in the Army from 1942 –1946 using the Aluminum cups. I did a lot of HUFFING & PUFFING."
——————–
Suzi Phillips said this:
"I still love JFG and I remember being SHOCKED to discover saucering and blowing were "ill mannered"!"
——————–
Lois Tootle reminded me of this:
"There was an episode of Gomer Pyle USMC in which Gomer asked a high ranking officer if he would like him to saucer and blow his coffee. The officer replied he hadn't heard that since he was a young man back home."
——————–
Garland Davis had a so much to say about saucering and blowing your coffee that he wrote a guest post for me a few years back.
Saucered and Blowed written by Garland Davis
I can remember my Granny Salmons, Mama, and various Aunts and Uncles pouring a cup of boiling hot coffee from the pot that sat on Granny's wood cook stove. They would then pour a little into the saucer, blow on it and then sip it from the saucer. I also remember us kids being given highly sugared white coffee and pouring it into the saucer and blowing it.
I was in third grade where the teacher taught a weekly session on manners. I distinctly remember her saying that no 'lady or gentleman' poured their coffee or tea into the saucer. I was actually embarrassed for my family because of this method of drinking coffee. I stopped drinking from the saucer. After we moved from the wood cook stove to the electric range I don't recall anyone drinking coffee from the saucer.
It was many years later, while reading a novel by the late Robert Heinlein that I came across the term "Saucered and Blowed". He explained that it was a custom inherited from the Danish, the Scots, the Germans, et. al. He said it grew from the early use of a shallow bowl or 'saucer' to drink tea'.
Our pioneer ancestors cooked with wood or coal as fuel. They boiled the coffee and served it boiling hot. One source that I read said, "My Granny served coffee so hot the only reason that it didn't catch fire was because it was wet." Pouring the coffee into the saucer created a larger surface area and permitted the coffee to cool to drinking temperature quickly.
In many trades the term "Saucered and Blowed" has come to mean the completion of a job or the thorough study of a problem, as in, "That new manufacturing process is 'saucered and blowed.'"
That about does it. This article is "Saucered and Blowed."
————-
I hope you enjoyed all the comments and Garland's old post. If you have something to say about saucering and blowing coffee or tea I'd love to hear it, so please leave a comment.
Tipper