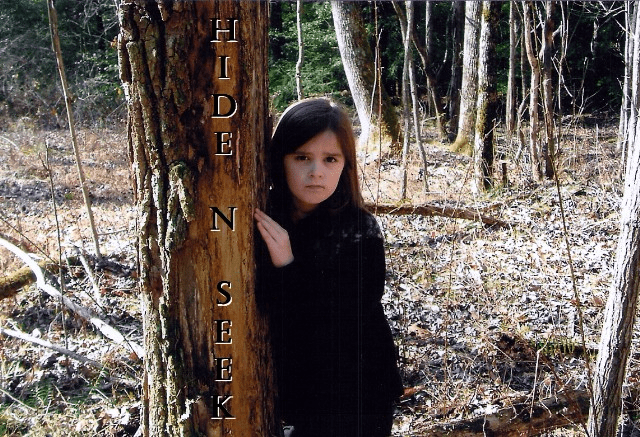 Hide n seek would have to come in as the number one game played by kids-or at least in the top five. I never heard the game called anything other than hide n seek until some of you Blind Pig readers referred to the game as whoppy hide. My Dictionary of Smoky Mountain English has this to say about the game:
whoppy hide noun

A variant form hoopie hide.
B The children's game hide and seek. Same as hide and whoop.
1939 Walker Mtneer Looks 7 And the game called "Hoopie-Hide" in Tuckaleechee is just plain "Hide-and-Seek" in Happy Valley. 1966-67 DARE (Burnsville NC, Gatlinburg TN, Maryville TN). 1973 GSMNP-74:25 We'd call it whoopyhide, but [they] call it hide and seek now. 1973 GSMNP-79:10 We'd use the big boulders that they'd scrape from the roads, beside the roads as our hiding places when we'd play whoopyhide. 1980 Smokies Heritage 224 Us boys liked the running games best, like "base," "whoopee-hide," and tag. 1996 Montgomery Coll. (Cardwell, Jones, Ledford, Norris, Oliver).
[perh from the caller's cry when beginning to search for those hiding]
——–
Just a few days ago B. Ruth shared how she played hide n seek when she was a kid:
Tipper, We counted potatoes to see who would be "it"…with four following the third potato. As each member fell out the last one was "it". We picked a home place! This game was generally played between dusk and 11 o'clock on a summer night while all the adults were sitting around talking. We got a big juice can or bean can and placed it at the home base, usually a scrap of wood or a tree. Then we would count potatoes again to see who would get to "kick the can". When the can was kicked the "It" had to run and get it and bring it back to home base while we all scattered to hide…"It" would start looking for us and yell out if "it" saw one of us by name, or tagging one of us before we could run in to "kick the can" again. Which would start the game again to the despair of the "IT". I only remember once or twice slipping in behind the "It" and getting a kick of the can before getting tagged. This game would wear you out…plus hiding in the dark could be creepy at times. Sometimes it was played with a stick and called "hit the can" which was more dangerous! We also did the Eenie Meenie one too, to pick the "It" person. Sometimes we would pick teams…I guess we just made up our own rules as we went along. The worst part was a lot of us had pet dogs and they would always give away where you were hiding….
——–
The Frank C. Brown Collection of North Carolina Folklore shares an old variation of hide n seek where a rhyme was called out just before the hunting started:
Bushel of wheat bushel of rye All not hid holler I
Then if no one answered the call:
Bushel of wheat bushel of clover
All not hid can't hide over
All eyes open Here I come 
——–
When I was kid, we counted potatoes to figure out who would be 'it'. Then we chose a base, lots of times it was the back step of Mamaw and Papaw's house (Uncle Henry's house in later years) or a car parked in the yard. Whoever was it hid their head on base and counted loudly to a predetermined number while everyone else hid. Once the it person had counted they'd usually shout "Ready or not-Here I come!" and the game would commence. In our game if you made it back to base you were safe. My strategy was always the same try to hide in a spot that made it easy to sneak back to base while the seeker was out finding the other hiders. If the person who was it did find you in your hiding place you still had a chance to beat them back to base, but if the it person tagged you before you could get back to base then you were it for the next game.
Hide n seek was one of Chatter and Chitter's favorite games when they were little. They wanted to play in the house and they wanted to play the game over and over even though the little rats always hid in the same places!
One day they were begging me to play with them and I finally gave in saying "Alright but no one hide in the hall closet or behind the bathroom door try to find a new place to hide." I volunteered to be it first. I set in the living room with my eyes closed, counted, and then yelled I was coming to find them. As I started down the hallway I glanced into the foyer and seen a big lump under the rug Chatter had indeed found her a new place to hide: under the rug in the foyer. I laughed until I cried and she was so little she never did understand why I thought it was so funny, but she does now.
If your version of hide n seek or whoopy hide varied from the ones above please tell us about it. And if you have an interesting memory about a game of hide n seek share that too!
Tipper