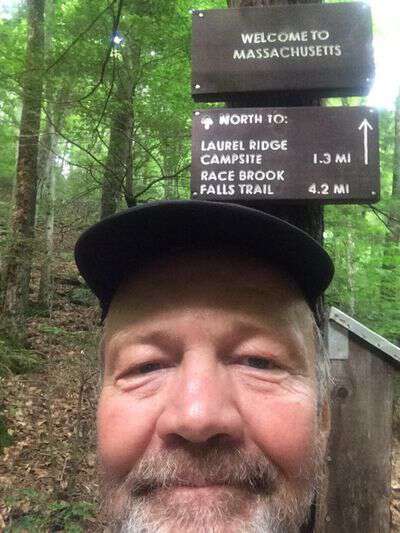 I've read just enough about the Appalachian Trail to have sort of a romanticized thought of how cool it would be to walk the entire trail. Leaving the romantic notions aside-I'm positive it takes a lot of hard work, stamina, and determination to make the trek.
I recently read Dean "Right Here" Fletcher's book detailing his journey from one end of the Appalachian Trail to the other as a thru hiker.
The book is Fletcher's daily journal from his trail trip. Each night he 'jotted' down details from his day in his cell phone.
Fletcher started his hike at the south end of the trail in Springer Mountain, GA on March 15. He completed his 2,185.3 mile walk at the north end of the trail in Mount Katahdin, MA on August 29.
Most nights were spent in his trusty tent. Other nights Fletcher stayed in hostels and huts set up for trail hikers. And on the nights he had to go into town for supplies, to rest up, and to dry out he stayed in motels and inns.
Although I don't see hiking the Appalachian Trail in my future-I truly enjoyed the book. I was amazed by the 'trail magic' Fletcher ran into. Folks who live near the trail or folks who have hiked it in the past-showed up along the way with food, soft drinks, and other goodies.
I was also impressed with Fletcher's attitude. He seemed to decide from the beginning that he would make sure he enjoyed every moment of the walk-even the ones that weren't so great like walking miles upon miles in torrential downpours. And with over 170 color photos-the book truly gives you a peek into what each day on the trail was like.
A tradition from the Appalachian Trail is that all thru hikers take on a new moniker during the journey. Fletcher's new name was Right Here. He says the name helped him remember he was 'right here' in the journey and helped remind him to appreciate each step of the walk.
Some of you may already be wondering if Dean Fletcher is related to Blind Pig reader and guest post contributor Charles Fletcher. The answer is yes. Dean is Charles' son.
Charles published his son's book and generously sent a copy for me to read and to giveaway here on the Blind Pig.
If you'd like a chance to win the book Right Here On The Trail leave a comment on this post. *Giveaway ends Sunday January 11, 2015.
The book is also available for purchase at Ingram, Amazon.com, Baker & Taylor, Barnes & Noble, and directly from the publisher: Charles C. Fletcher, 2310 Harris Circle N.W., Cleveland TN 37311; phone 476-6835; or email: [email protected]
Tipper