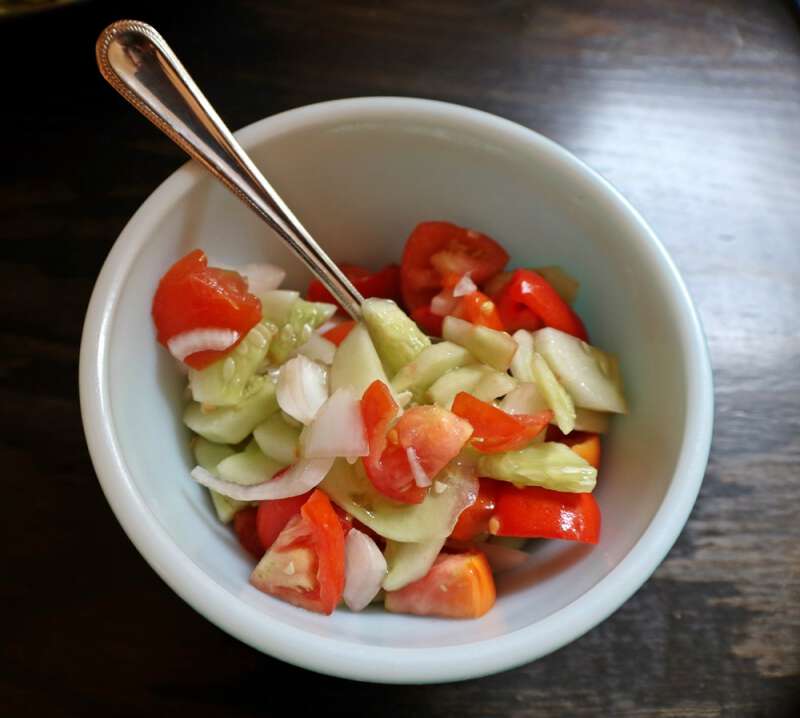 Come summer, you can count on Granny having a simple salad of cucumbers, onions, and tomatoes in her frig or on the table if you're sitting down to eat.
A few years back I asked Granny who taught her to make the summertime salad.
There were eleven children in Granny's family and nine lived to adulthood. Granny was the third youngest of the family. By the time she came along some of her older siblings had moved out, married, and had children of their own.
Granny used to spend the summer with her sister Dorothy in Gastonia. She babysat her nephews and helped out around the house.
Dorothy served the simple salad for supper almost every day. Granny said she just loved it-so she asked her sister where she learned to make it? Dorothy surprised her by saying "Why mother made that for us all the time when we were little. Don't she make it for you and the rest of the bunch at home?"
For whatever reason, their mother Gazzie had quit making the salad by the time Granny came along, but thanks to Dorothy the simple recipe survived and was passed along so that I might enjoy it my whole entire life. And since Chitter made the salad for our supper the other night the recipe will go on to another generation of this family.
To make Granny's Easy Summer Salad:
dice up an onion-some cucumbers-and tomatoes
toss them all in a bowl
salt to taste and put it in the frig for a couple of hours.
A few years back when I mentioned Granny's simple salad here on the Blind Pig and The Acorn more than a few readers had their own versions of the salad.
Sandy: I thought I was the only one who ate this. I chop it fine and eat it in the middle of the night on ciabatta bread grilled in olive oil. I put a bit of garlic in mine too or rub the bread with a clove of it. Oh yum.
Mrs. K: This is my favorite salad, but like everyone else, I have my own adjustments. I chop up the tomato and cucumber, salt them and let the whole mess sit until it gets juicy, then add a bit of oregano, some olive oil and wine vinegar along with some crusty bread chopped up. Yummy. Growing up, everyone had gardens in our neighborhood and we kids used to go picking to make tomato and cucumber salad. I just love it!
Wanda: I love this–usually put a little olive oil & lemon juice on it too. It's one of my favorite nighttime snacks with the leftover cornbread from supper.
Bill Burnett: My Mom made a similar salad in the summer since we always raised a large garden and ate whatever was in season. She often added a little sugar & vinegar adding a great sweet/sour kick to the great flavor of the fresh veggies.
Tipper