Today's guest post was written by Joe Mode.
—-
Following is some genealogical material regarding our Walker, Houston, Fox, Buchanan, Goodman and associated lines and information that I, Joe Mode, gathered through conversation with my great grandmother Jerusa Edith Grant Bowers, her ½ sister Margaret Heatherly Cox, my 3rd great uncle Ethan Grant and other family members, from family bibles, and published sources. Regarding sources, the bulk of records found herein related to census data, marriages, and death certificates were gathered at https://familysearch.org/ or http://home.ancestry.com/.  Many obituaries were gathered from family members over time and did not have the name of the newspaper or page. Some obituaries or newspaper articles came from http://www.theancestorhunt.com/blog/tennessee-online-historical-newspapers-summary#.VIhrNzHF98F. A great deal of information pertaining to birth and death dates and place of burial were found at http://www.findagrave.com/. When known, information from individual websites or via emails will be noted.
Our Walker line begins with Susan (Suda) Ellen Walker Grant Heatherly, my great, great grandmother, who was born on 15 November 1879 in Claiborne County and died in Knoxville on 22 July 1941. She is buried at the Bookwalter United Methodist Church Cemetery. She married James Rufus Grant (Jim) on 12 August 1897. James Rufus was "borned" 2 March 1872 in Liberty Hill, died of pneumonia on 26 December 1902 in Celina, Texas and is buried at the Crossroads Cemetery in Collin County, Texas. He was known for his singing schools. James, Suda, and their three children Jerusa Edith, Ethan Conrad, and Carl William Grant moved to Celina, Texas. Granny Bowers (Edith Grant Bowers) said that her father and mother sold out and moved to Texas after her mother's older sister, Annie Walker Phipps and her husband Houston, had moved to Texas between 1900 and 1902. Suda and the children moved back to East Tennessee after James's death. The children lived for several years with their maternal grandparents, Rev. John Davis and Margaret Ann Houston Walker, at Big Springs in Union County and their mother worked at a mill in Knoxville. She remarried to George Melvin Heatherly on 8 October 1910 in Union County, Tennessee. Her parents were the Reverend John Davis Walker and Margaret Ann Houston.  A relative told me that Suda had breast cancer first, and then died of stomach cancer. Suda was "very kind, very gentle" and "If she liked you she would do anything for you. If she didn't like you she wouldn't have anything to do with you." Uncle Ethan Grant said his momma Suda "didn't talk very much." And that she used to play the accordion. (From his tape dated 9 July 1983)
The Rev. John Davis Walker was born in Hancock County, Tennessee on 4 September 1855, possibly on the farm of Ned Walker or Eli Davis according to Phillip Walker, and died at the age of 86 on 23 August 1941 at 2439 Magnolia Avenue in Knoxville, Tennessee of "Senility." He is buried at Glenwood Baptist Church in Knoxville (Death Certificate #18351) Informant, Mrs. J.D. Walker, lists his parents as Jacob (Shuff) Walker (born 31 December 1826 and died on 4 October 1887) and Martha (Patsy) Davis (born 7 November 1825 and died in June of 1900 according to the records of Straight Creek Baptist Church where she and Jacob appear to have been members since 1866) He was named for his maternal grandparents, Jacob Tussey and Jane Shuff. Jacob and Martha were married in Claiborne County, Tennessee on 7 November 1846.  Jacob's parents were Edward Walker, Jr. and Mahala Tussey. Edwards' parents were Edward Walker, Sr. and Jane Horne. Edward Walker Jr. was in the War of 1812 and Edward Walker Sr. was in the Revolutionary War. (See biographies on Jacob Shuff Walker, Edward Walker, Jr., and Edward Walker, Sr. by Phillip Walker)
Jacob Shuff Walker was said to be a blacksmith and Claiborne County estate records show that Jacob bought a set of "smith tool" from the Fielding Lewis estate for $35.00 in November of 1852.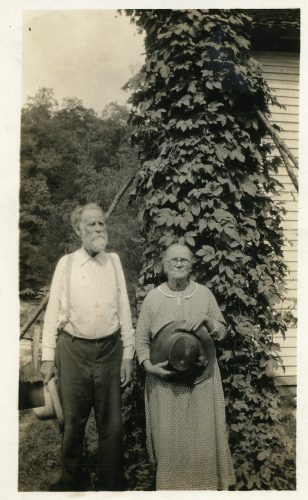 Rev. John D. & Margaret A. Houston Walker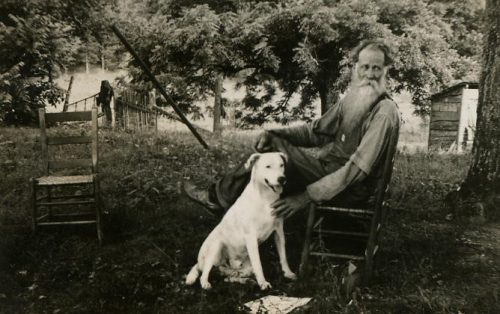 Rev. John Davis Walker perhaps at his house after moving to Knoxville
On 16 October 1873 Reverend John Davis Walker married Margaret Ann Houston in Claiborne County, Tennessee. Margaret Ann Houston was born 13 June 1858 in Grainger County, Tennessee and died at the age of 86 from Arterial Sclerosis on 12 July 1944 at the Knoxville General Hospital. She is buried at Glenwood Baptist Church in Knoxville. Informant, Mrs. W. M. Hill lists her parents as James R. Houston and Margaret Ann Fox, which is partially correct (Death Certificate #14932) Her granddaughter, Jerusha Edith Grant Bowers, stated that her Grandmother Walker was born on the river at Black Fox. Margaret Ann's father was William Jasper Houston who was born 28 May 1838 in or near Smyth County, Virginia and died 23 November 1863 in a skirmish near Chattanooga, Tennessee. He was a member of Co. C, 29th Tennessee Confederate Inf. William Jasper Houston married Margaret Ann Fox on 16 September 1857 in Claiborne County, Tennessee. Margaret Ann Fox was the daughter of Abraham Fox and Elizabeth Goodman who were married on 27 August 1832 in Smyth County, Virginia and later removed to Claiborne County, Tennessee.  According to Mary A. Hansard, Abraham Fox lived opposite to the Head of Barren Church. She stated, "Esau's (Davis, son of Marion Davis and Margaret Trosper) wife was Miss Matilda Fox, a daughter of Abraham Fox of Virginia. He was a fine old gentleman, who lived on Barren Creek near to the Head of Barren Church." Margaret Ann Fox Houston died circa 1859 in Claiborne County, leaving her daughter, Margaret Ann Houston, to live with her maternal grandparents; the Foxes.
—-
I hope you enjoyed this small peek into Joe's family research. Be on the lookout for more guest posts about his family line.
Tipper
Subscribe for FREE and get a daily dose of Appalachia in your inbox